Best 4x4 Car Rental with Rooftop Tent in Kenya - Your Drive
Explore Kenya with rooftop tent cars on self-drive or driver guided road trips. We have variety of 4×4 rental cars at competitive prices suitable for all road trips in Kenya and come with full camping equipment. Our prices are calculated on a 24 hour basis effective from the time you pick up the car to drop off. Check out some of our car rentals in Kenya with rooftop tents;
Best Car Rental Kenya with Rooftop Tent 2023/2024: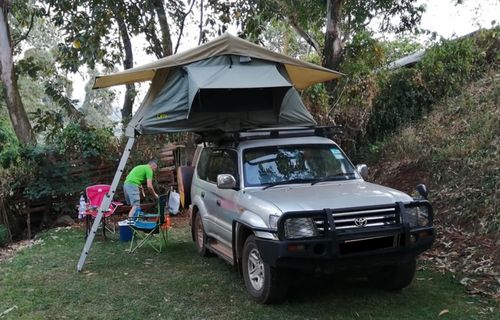 4x4 Land Cruiser Prado with Rooftop Tent
Hire our customized 4x4 Land Cruiser Prado with rooftop tent in Kenya at USD 95 per day. Our Land Cruiser Prado rentals with rooftop tents are 1998-2000 model and come with carrying capacity of 2pax. Available features include full set of camping gear, air conditioner, automatic transmission, 12v electric cooler box, 24v fridge but on request, FM radio, CD, USB and tow rope.
4x4 Land Cruiser V8 two Rooftop Tents
Available at USD 120 per day, our 4x4 Land Cruiser V8 rentals are a class apart. Think of a memorable road trip in Kenya this holiday season and think not beyond our full time 4x4 Land Cruiser V8 rental cars. Amazing features that come with Land Cruiser V8 rooftop tent cars: FM radio, USB, Aux, CD, automatic transmission, tow rope, air conditioner, full set of camping gear with capacity of 4pax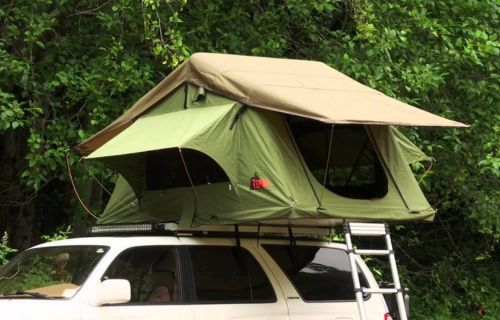 4x4 Toyota Hilux with Rooftop Tent
Embark on Kenya road trip using our classic 4x4 Toyota Hilux with rooftop rental available for hire at 110 USD per day. Incredible features fitted in a Toyota Hilux with rooftop tent rentals include air conditioner, FM radio, Aux, USB, CD, cooler box, tow rope, manual transmission, 3400cc diesel engine, and camping gear with capacity of two people. We also have double cabin Hilux.
Nissan Patrol with Rooftop Tents
At about USD 70 per day, you can hire a 4x4 Nissan Safari rental fitted with rooftop tent. It comes with 3400 diesel engine, 5-speed manual and automatic transmission, air conditioner, power window, power steering, CD player, MP3 player, camping gear with capacity of 2 pax and others.
Land Cruiser Hardtop with Rooftop Tent
Rent a 4x4 Land Cruiser Hardtop with rooftop tent at USD 130 per day with full set of camping equipment. The Land Cruiser Hardtop rentals are available in manual form and come with features such as diesel engine, FM radio, Aux, USB, tow rope, fridge, cooler box, air conditioner and more.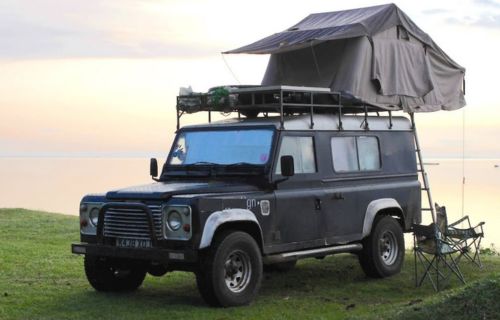 Land Rover Defender with Rooftop Tent
Embark on a road trip in Kenya well-knowing that your safety is guaranteed with our powerful 4x4 Land Rover Defender. This is available in manual transmission, fitted with features such as 3400cc diesel engine, air conditioners, tow rope, FM radio, CD, Aux, full set of camping gear, and more.
Land Cruiser GX with Rooftop Tent for Hire
Get on the road in style using a 4x4 Land Cruiser GX with rooftop tents and you can hire it at 95 USD. We have a 5-speed manual transmission fitted with power steering, camping gear, CD player, 3400cc diesel engines, air conditions and others.
Frequently Asked Questions:
How much does rooftop tent cost?
The rooftop tents come in varying rates of about USD1000 to USD2000 and hard shell can cost USD 2000 to USD 5000.
What do you call rooftop tent?
A rooftop tent is an accessory that can be fitted to the roof/bed of the motor vehicle and allows the users to sleep in relative safety and comfort.
Can a car support a rooftop tent?
Yes, the rooftop tents do fit on most cars whether it is a truck, jeep or SUV.