Top-Quality Prado TX/TZ for Hire in Kenya at Affordable Cost
Visiting Kenya soon? Prado TX/TZ for Hire in Kenya is by far travelers' most preferred rental car when it comes to all road trips in Kenya. Our Toyota Land Cruiser Prado rental cars in Kenya and East Africa are tested and proven, credited for their excellent performances regardless of the destination's terrains.
There are many Land Cruisers vehicles to hire for a road trip but none beats the performance of the Toyota Prado TX/TZ. Not only are Prado TX/TZ for Hire in Kenya out as all-terrain vehicles but also listed among the most efficient, durable and reliable vehicles. You can hire Prado TX/TZ for 4×4 self-drive car hire Kenya or driver guided Kenya safaris.

Toyota Land Cruiser Prado TX is categorized as the most basic model in the Prado rental cars. It is the most affordable if you are looking at hiring a car in Kenya for a vacation. The Toyota Land Cruiser Prado TX for hire in Kenya are preferred rental car due to its fuel economy status unlike other models.
The Prado TX model features include seating capacity of 5- 7pax, mileage of 180kmpl, diesel and petrol powered engine, turbo charged, 4×4 model, adequate space for the leg stretching and luggage.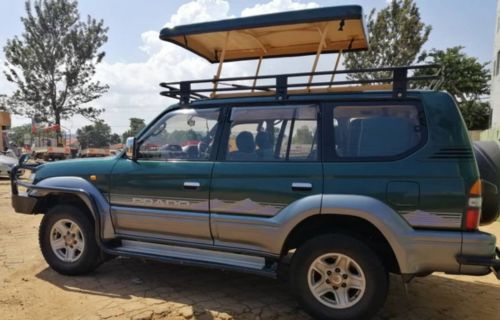 Best Toyota Land cruiser TX/TZ for Hire in Kenya:
The 2022 Latest Prado
Toyota Prado TX for hire in Kenya remains one of the most favorite luxury SUV rental cars in Kenya. It is visitors' first choice for road trip due to its most effective and cost-friendliness. It is Japan made, Africa's most driven SUV car, a reason you should consider booking your ride in advance.
The Prado TX/TZ for hire in Kenya is most sought for vehicle for different reasons/purposes. It is perfect for private trips to destinations such as the Masai Mara, Amboseli National Park, Tsavo National Park, Mount Kenya National Park, weddings, networking events and more.

The new model of Toyota Prado is fitted with lots of amazing features/amenities. It is a complete 4×4 type still produced by the Japanese automaker Toyota and features among the smaller cars in the range of Land Cruisers with great performance. In general, they have varying seating capacity of 5 to 7 pax and weight of 9500kg.
Other specifications not to ignore include MP3/USB provision, Airbags, Air conditioner, lifesavers, fire extinguisher, first aid kit, automatic and manual transmission. Hire a Toyota Prado with us, and stand a chance to enjoy discount offers.
Land Cruiser TX Vs TZ
What differentiates the Toyota TX from TZ is their power and performance. The other essential component is the price for hiring –the TX is relatively cheaper than the TZ.
What does TX mean in Land Cruiser?
TX is credited for its remarkable balance of power and efficiency. Available in TX diesel engine and TXL turbo diesel, and seat capacity of 7 (seven) pax.
Other than TX and TZ, the Japanese Prado cars also comprised of other trim levels such as TZG, TXL, RZ and RX. The TZ'G selection is most popular as the highest specification model and has amazing features such as hill start assist control downhill assist control, adjustable air suspensions, heated exterior mirrors, front driver and passenger heated seats, central differential lock and others.

Benefits of renting Toyota Prado TX/TZ
Cabin –Toyota Prado TX for hire in Kenya has use-friendly and luxurious cabin making it a perfect option for family road trips. Its main controls are easier to use and lightweight.
Seats –Prado TX is the best rental car to embark on long distance travel. The visitors are rest assured of ultimate comfort and support thanks to its uniquely designed seats. If you enjoy soft-riding, then consider hiring 4×4 Toyota Prado cars.
Comfort –A road trip in a 4WD Prado vehicle guarantees travelers comfort. It is possible to drive off-road and also you can utilize it as a large family 4×4 wagon.
Rent a Prado TX/TZ in Kenya:
---