Essential Safety Tips for Camping in Kenya by 4×4 Car Rental
Looking at undertaking camping trip in Kenya? Well, we share with the best safety tips for camping. Kenya is one of the kind destinations, a country with abundant wildlife and spectacularly breathtaking landscapes. Not only does this magical destination guarantee the best big 5 game safaris or wildebeest migration experiences, but also unforgettable camping safaris.
With so much awaiting you on Kenya safari, one could wonder how best they can go about camping safaris. Well, we have put together myriad of safety tips for camping in Kenya to guide you plan and enjoy your maiden or repeat camping vacation with no worries.
Our safety tips for camping safaris in Kenya apply to all destinations. Is it Maasai Mara National Reserve, Amboseli National Park or Samburu National Reserve that you desire spending your camping holiday? Check out our essential safety tips for camping to help you have an experience of a lifetime.
Top Safety Tips for Camping in Kenya:
Do not keep food in your tent!!
While food is essential during camping or any trip, keeping it inside the tent puts you at a risk. Camping is entirely immersing yourself into the wilderness and this is a home to variety of species including small and large carnivores. Keeping food inside the tent you sleep puts you at a risk of carnivores, especially when they see or smell it.
Stay calm in your tent if you see/hear an animal outside.
It is frightening living inside the tent when you hear or see a huge elephant or buffalo run towards the camping site. Such sudden movements can tempt one to move out, and this isn't safe.
Your judgment on the animal is severe, then consider a safer area and when setting up your tent, please ensure that the tent has some escape routes.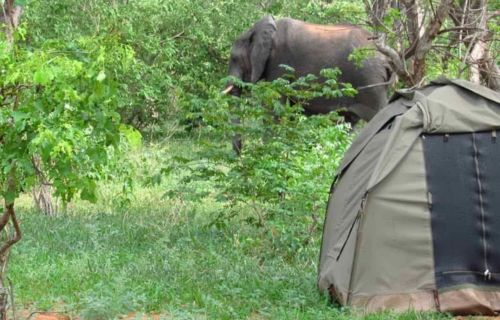 Do not sleep with the tent door open
Once it clocks to time to take a nap, make sure that all the tent doors and any holes on your tent are closed up. Leaving any of them open may mean you have provided entry point for hyenas and any carnivore in the wild.
Find the right campsite
Before you consider setting up the tent, make sure that the campsite is a safe and secure ground. When choosing campsite, your leader will always advice on where to set the tent and besides, destinations also designated points for camping. You don't set up a tent anywhere just.
Plan your campfire well
A campfire is part of the experience that comes with camping safaris. As you enjoy the warmth or prepare food, consider observing all safety measures to avoid habitat destruction as a result of fires.
Your campfire should be set in already designated fire pits and shouldn't be left unattended.
Pack well
A lot is required for any a successful camping safari to be realized. Some of the must-have items for camping in Kenya include first aid kit, comfortable safari clothes, pair of binoculars, cameras, head torch, footwear, cooking equipment and more.
Respect the environment
All safari destinations in Kenya have set guidelines to be observed. Do not disobey any of the park guidelines and make sure that you offer maximum respect to environment.
Know when best to go camping Kenya
Most activities in Kenya are done all year-round, thanks to the country's favorable weather conditions. The most ideal season or months of the year to visit Kenya for camping may vary depending on what your travel interest in the destination.
If you are looking at wildebeest migration in the Maasai Mara, then June to October is the best period. Rains often begin around April and December although the temperatures tented to be relatively warm. See our Best Time to Visit Kenya guide.
Plan your camping with an expert –Car Rental Kenya
If you want a camping safari that guarantees lasting memories, then you a million reasons to arrange your trip with a local expert such as Car Rental Kenya.
For several years, we have and still do organize remarkable camping expeditions in Kenya and across East Africa. Reach out to our team for a quick response: +25670458374 or email: info@carrentalkenya.com.
In summary, plan and book your camping expedition with a local expert. We offer great guidance for all our clients interested in camping vacations in Kenya.
You may like;