Land Cruiser Hardtop Kenya | Best 4×4 Land Cruiser 70 Series
Looking for a perfect ride for your trip in Kenya? Rent a Land Cruiser Hardtop Kenya also known as Toyota Land Cruiser 70 series, a Japanese automobile and has existed since 1984.
The 70 series replaced the 25 year-old 40 series as the off-road model of the Land Cruiser lineup and the contemporary 60 series modified to a more comfortable Luxury SUVs beginning with the 80 series.
The 70 series Land Cruiser Hardtop for hire in Kenya comes with classic qualities including long lasting interior materials, durability, and amazing off-road performance.

Exterior features of the Land Cruiser Hardtop:
The Land Cruiser 70 Hardtop features Toyota Logo on the grille, front fog lights, front halogen, and daytime running lights.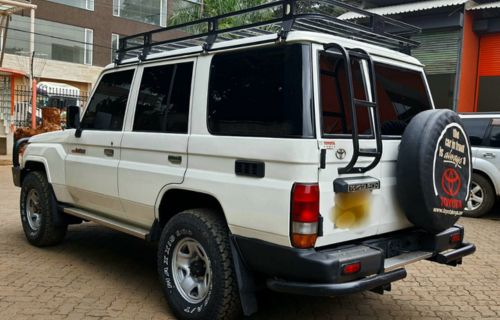 On the sides, the 70 series Land Cruisers come with 16 inch steel/alloy wheels, a snorkel, over fenders, chrome door handles and chrome-plated motorized side view mirrors. The back side is equipped with an electrical winch, halogen rear lights, rear luggage access, and spare tire cover.
The exterior specifications include 273cm wheelbase, 472cm length, 195.5cm height, 177cm width, 2475kg weight, and 23cm ground clearance.
The interior features
The interior features of Toyota Land Cruiser 70 include power window, front separate seats, transverse rear seats, front center console, leather-trimmed steering wheel, glove box, fabric seats, shift knob with a wood grain effect, driver and passenger door pockets, wood grain effect, interior door trim, Air conditioner, center locking, manual steering, wireless door lock and others.
Toyota Land Cruiser 70 Tech & Infotainment
The 2021 model has amazing features such as FM, DVD & CD player, 7-inch touch screen with a GPS, MP3 file compatibility, AUX ports, 2 speaker sound system and more.
The engine specification – the Land Cruiser 70 series 2021 has 2 engines; 4.0L V6 and 4.5 L V8. The 4.0 L V6 produces 228hp and 360Nm of torque and the 4.5L generates 196hp and 430Nm.
All the two engine types mated to a 5 speed manual gearbox and 4WD system. Their acceleration time and peak speed aren't different, with a figure of 9.9sec for acceleration and an estimate top speed of 180km/h.

Safety on Road Trip
Toyota Land Cruiser 70 rentals are safe to drive on Kenya holiday. They come with important features such as antilock braking system (ABS), driver and front passenger airbags, vehicle stability control (VSC), hill assist control (HAC), brake assist, pressure monitoring system, electronic brake force distribution, parking sensors and active traction control.
These are some of the safety and driver assistance features equipped into our comfortable Land Cruiser 70 Hardtop rental cars in Kenya.
Why hire 4×4 Toyota Land Cruiser 70 Hardtop in Kenya?
Our Toyota Land Cruiser 70 series are full time 4×4, and best to embark on a road trip to any part of Kenya. Driving a Toyota Land Cruiser Hardtop saves you from any worries of tough terrains.
They are fitted with safety systems guaranteeing you safety and security on a road trip and have the best cabin. Talk to one of our reservation team via WhatsApp: +256 704538374.
Prices
All our Land Cruiser 70 Hardtop rental cars are available for hire in Kenya at the most friendly prices. Reach out to our team to book your dream ride in advance and enjoy adventure of a lifetime in the Magical Kenya.
Land Cruiser 70 2020 Vs Land Cruiser 70 2021
The two models of Toyota Land Cruiser 70 haven't changed in appearance and still hold amazing hold. The Hardtop grade features 4.5L V8 engine and 5-speed manual transmission with full time 4×4 system.
The advantage with Toyota Land Cruiser 70 2021 is that it is credited for its excellent off-road capabilities, comfort, confident drive and smooth with luxurious interior. But some are known not to have good fuel consumption rate.
Rent a Land Cruiser Hardtop;
---
Related Cars for Rent in Kenya;