Cheap Car Rental in Eldoret; Car Hire Services in Eldoret
Car Rental in Eldoret are the easiest way that tourists on Kenya safaris can get to their destinations. Luckily, with Car Rental Kenya Car Hire Company, you don't need to worry about where to find a vehicle for your road trip.
Even at Eldoret, it is possible to get your dream ride and you begin your expedition to any destination in the Magical Kenya.
Our car rental services in Eldoret are suitable for both self-drive tours and driver guided road trips. Choose from our range of rental cars including Land Cruisers, Vans, and Safari Vehicles with rooftop tents.
Location
Eldoret is one of the principal towns in Kenya, and situated in the Rift Valley area. It is the capital of Uasin Gishu County. The white settlers referred it as Farm 64 and locals called it Sisibo.

Eldoret is ranked 5th most populated urban area in Kenya and comes after Nairobi, Mombasa, Nakuru and Ruiru. As of 2019, Eldoret accounted for a population of about 475716 people.
Eldoret takes its name from a Maasai word –'Eldore' meaning Stony River. This is in reference to the Sosiani River that floors via the town.
Eldoret features several estates including Elgon view, Jerusalem, Kimumu, Kapseret, Huruma, Kipkaren, Langas, Kahoya, Kapsoya, Kipkorgot, Annex and West Indies, etc.
Best Car Rental in Eldoret:
Toyota Land Cruiser LX
Enjoy a road trip using a comfortable Land Cruiser Hardtop 78 series. This is also available with double rooftop tents, ideal for self-drive tours in Kenya and also cross border trips. You can hire our 4×4 Land Cruiser with no driver from Eldoret as low as USD 120 per day.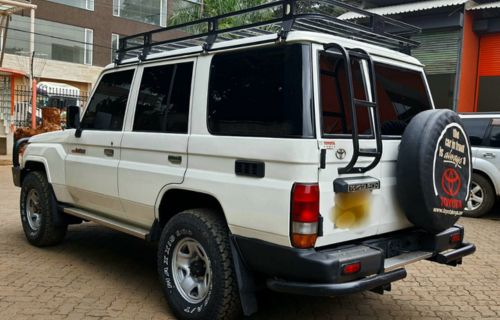 Land Cruiser V8
Experience state of luxury in Kenya by booking our comfortable Land Cruiser V8. This is the perfect option to explore Eldoret and surrounding area. The Land Cruiser V8 rentals are fitted with essential amenities.
Land Rover Defender
Activate your adventure spirit by embarking on a road trip using a comfortable Land Rover Defender starting from Eldoret. It is ideal both for urban running and outdoor experiences.
Coaster buses
Hire our comfortable coaster buses with capacity range of 25 seats, Toyota series. This takes economy, luxury travelers and noted for its great performance.
Other amazing cars to hire in Eldoret Kenya; Land Cruiser Prado TX, Safari Vans, Toyota Rav4, Limousines, Mercedes Benz, and more.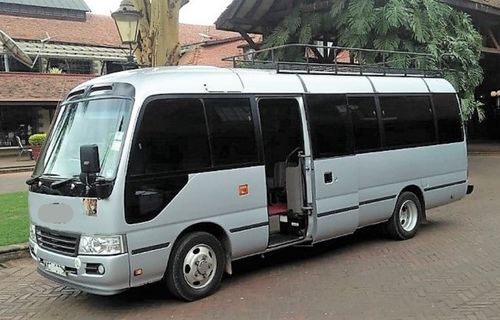 What to do and see in Eldoret?
Visit the Hindu temple – this is one of the biggest temples found in Eldoret. Several of Hindu people gather here to worship and interestingly, the temple features one of the unique architectural designs.
Trek the Cherangani hills –the Cherangani Hills are some of the must-visit spots in Eldoret town. They are the best places to start your adventure experiences.
Tea estate in Nandi hills – set off for a hike to the summits of Nandi hills. These hills are the best for hikers and guarantees great views of the tea estates.
Getting to Eldoret
Eldoret is accessible by road, air and railway means of transport. From Nairobi city to Eldoret, you will spend at least 4 hours driving on roads.
This is possible using a rental car in Kenya from Car Rental Kenya/Your Drive Africa. Check out availability of rental cars through +256704538374 | info@carrentalkenya.com.
Rent a Car in Eldoret: