Best 4×4 Prado TX/TZ with Rooftop Tent for Hire in Kenya
The Prado TX/TZ with Rooftop Tent is a medium-size SUV and one of the most affordable rental cars in the class of 4×4 cars. Find the best 4×4 Toyota Prado TX fitted with Rooftop tent, perfect for self-drive tours, driver guided game drive safaris and all East African road trips.
Choose our automatic transmission 4×4 Prado TX/TZ, explore Kenya your way with no worries. Available with capacity of 2-5pax, our Prado TX/TZ rentals are ideal for your Kenya self-drive tours or camping vacation. With rooftop tent available, no need for you to worry about setting up a tent on the ground and removing it.
It even saves you a lot, especially if happens to rain that day instead of soaking yourself in the water, your night will be had on top of your Prado TX/TZ with Rooftop Tent.

Specifications of our Prado TX/TZ Rental with Rooftop Tent:
2700-3400cc
Petrol/Diesel Engine.
Air bags.
Unlimited mileage.
FM radio, MP3, CD, USB player.
Automatic or manual transmission.
Air conditioners.
5 Doors.
4pax capacity.
Full Camping Gear
Camper tables.
Waterproof tents.
Pair of pillows at extra charge and on request.
BBQ Grill.
Kitchen ware.
Sleeping bags.
Electric cooler box.
Gas cylinder or stove.
45 Liter fridge.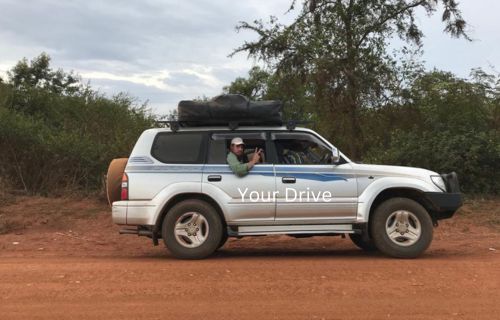 Is Prado TZ different from TX
The main difference between Prado TX and TZ is the power and the performance that come with it. The Prado TX is slightly powerful compared to TZ. Unlike TZ, Prado TX is more affordable and TZ is costly with features such as sunroof, comfortable electric seats.
Rent a Prado TX/TZ with Rooftop Tent:
Is Kenya safe for self-drive? Where to go for Self-drive Tour in Kenya?
Kenya isn't only most explored for wildebeest migration, but also attracts several guests who come for self-drive tours. It is a safe place to enjoy a self-drive vacation in East Africa, with myriad of destinations awaiting you to explore.
Some of the ideal locations to consider visiting using your Prado TX/TZ with Rooftop tent car include Maasai Mara National Reserve, Lake Nakuru National Park, Aberdare National park, Tsavo National Parks, Nairobi National Park, Meru National Park and Amboseli National Park.
Masai Mara National Reserve
Located in the Southwestern Kenya, Masai Mara National Reserve is a 1510sq.km reserve, East Africa's most preferred destination for big five game and wildebeest migration experience.
From July to October, over 1.5m wildebeests confine within the Maasai Mara crossing from the Serengeti National Park in search for pasture and water.
Other wildlife to see on Kenya tour in Masai Mara include giraffes, zebras, hippos, Nile crocodiles, cheetahs, leopards, buffaloes, elephants, rhinos, and lions plus more than 500 species of birds.
Amboseli National Park
In your Prado TX/TZ, embark on a journey to unearth the wonders of Amboseli National Park. This protected area is the ideal location to enjoy a close sight of huge herds of elephants as they roam freely in the savanna grassland.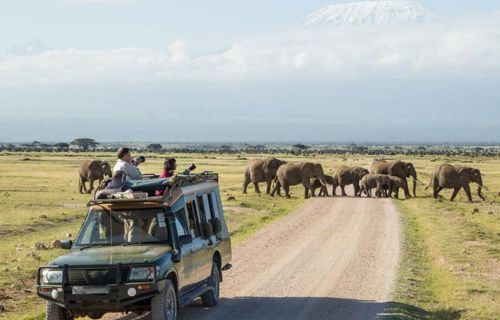 Besides, it is the perfect place in Kenya to enjoy views of the scenic Kilimanjaro Volcano, the world's free-standing mountain. Talk to us about 4×4 Land Cruiser Prado TX/TZ with Rooftop Tent via WhatsApp: +256 704538374.
In addition to African elephants, Amboseli NP also holds various wildlife such as Nocturnal porcupine, hyrax, giraffes, cheetahs, leopards, lions, zebras, mongoose, cape buffaloes, dik-dik, and plentiful of birdlife.
Lake Nakuru National Park
If you are an enthusiastic birder or nature lover in general, Lake Nakuru National Park is definitely one special place you should count a must-visit.
Lying along the Great Rift Valley floor with surrounding of wooded and bushy grassland, Lake Nakuru NP is naturally scenic and holds huge concentrations of pink flamingos.
The 188sq.km compact park was established in 1961 and is also the most famous for black and white rhinos, waterbucks, Rothschild giraffes, zebras, leopards, spotted hyenas, lions, colobus monkeys, hippos, cape buffaloes, to mention but a few.
Meru National Park
This is one of the remotest and rugged parks in Kenya. Meru NP is among Kenya's least explored and remarkably unspoilt destination.
At Meru National Park, you can find elephants, Grevy's zebras, buffaloes, reedbucks, reticulated giraffes, lesser and greater kudus, leopards, wild dogs, lions, and 427 species of birds.
You can embark on a self-drive trip to Meru N/Park and explore its natural wonders. This park is set in eastern side of Meru and from Nairobi city, it is about 350k.