Amboseli Car Rental Rates, Packages and Best 4×4 Cars
Get the best Amboseli Car Rental for your road trip to Amboseli National Park is better enjoyed in one of our best rental car options. With our wide-range Amboseli car rentals, you do not need to think about the stressful public transportation. Hire a car in Kenya, and start your adventure to Amboseli in a unique way.
Our Amboseli car rental services are ideal for all guests visiting for business, leisure or pick up and drop off in Amboseli National Park. Renting a car in Kenya with us allows you to explore varied attractions at your own pace right from the moment you leave your accommodation.

Our Amboseli Car Rental Options:
Toyota Land Cruiser with pop up roof
Embark on a road trip in Amboseli National Park with no worries of getting stuck. We have the best Toyota Land Cruiser fitted with a pop-up roof, 6 window seats, long-range tank of 140 to 180L, 1100 to 1300km radius, 2 spare tyres, manual transmission, fuel consumption rate of 7km/L, etc.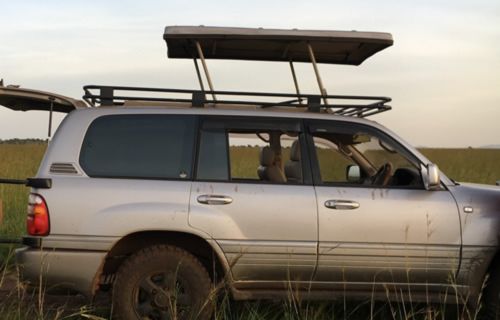 This is the best option for visitors in need to explore Amboseli National Park wildlife and there is a guarantee of 360 degree game viewing experience.
Nissan Xtrail
Hire Nissan Xtrail selection from Amboseli, a perfect SUV option offering real adventure family trips. This is uniquely built with 100% guaranteed comfort thanks to its amazing features both in the interior and exterior.
Our Nissan X-trail is a 4WD, also fitted with 3 luggage capacities, automatic transmission, CD player, FM radio, AC, 5 doors and capacity of 5pax.
Toyota Prado Rental
4×4 Land Cruiser Prado is one of the most preferred rental options awaiting you to start your adventure in Amboseli National Park.
This is the perfect option for all guests interested in off-road trips. We have the best Land Cruiser Prado TX/TZ with exceptional road trip performance and fuel efficient.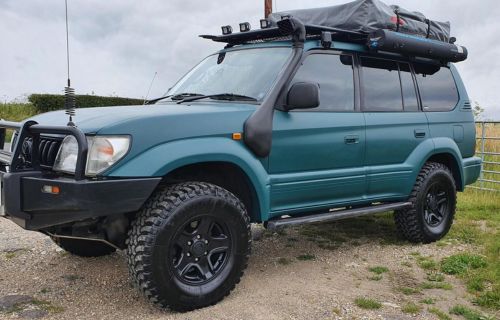 Toyota Rav4
Recommended for self-drive tours and also credited for its fuel efficiency, Toyota Rav4 is one rental car you shouldn't leave out when visiting Amboseli National Park.
Our Rav4 car hire is typical 8 speed automatic transmission, 4×4-wheel drive, with 2.5 L four-cylinder engine, and comes with a spare tyre, luxurious interior and boot space.
Land Cruiser Hardtop specifications
This is a Toyota Land Cruiser box model with capacity of 6 window seats, tank capacity of 2×80 L, Diesel engine, 4 WD, 2 spare tyres, 1HZ 6 cylinder engine, gearbox –manual, fuel consumption of 7-8km/L and others.
About Amboseli National Park
Crowned by legendary Kilimanjaro Mountain, Amboseli National Park is truly home of the African elephants. Formerly referred to as Maasai Amboseli Game Reserve, this park is spectacularly sprawling in the Kajiado South Constituency, Kajiado County, Loitoktok district, in Kenya.
Amboseli is set in the Rift Valley Province of Kenya and is country's 2nd most famous park. From Nairobi capital, Amboseli NP is 260km and protects more than large herds of African elephants.
Other wildlife species that freely roam in the Amboseli NP include zebras, African buffaloes, impalas, Kudus, mongoose, wild dogs, giraffes, lions, hyrax, and more.

The 392sq.km Amboseli N/Park also shelters a total of about 400 species of birds including the long-toed lapwings, Eurasian thick knee, African swamp hen, yellow-necked spur fowl, kestrel, hartlaub's bustards, rufous bellied herons, pangani long claws, rufous chatterer, spike-heeled lark, lesser and greater flamingos, etc.
In your comfortable rental car, the best thing not to miss in Amboseli is a game drive. Our Land Cruiser rentals with pop up roof offer 360-degree viewing of the big game species and other diverse animal species.
Best time to visit Amboseli
Amboseli NP is excellently explored during the dry season, a period when you can clearly spot wildlife confined along the water holes.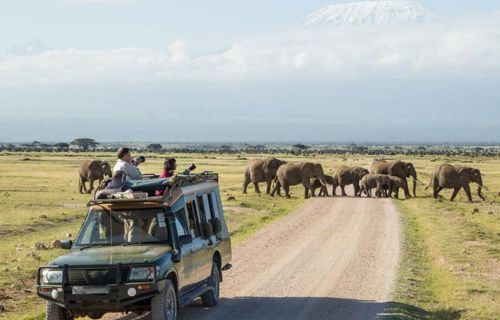 This is from July to October also regarded as the peak months of the year in this park. Around November to December, the park records short rains and short dry season starts again in January and February.
Getting there
Amboseli is about 240km away from the heart of Nairobi city. By road, you can easily get to this park using our rental cars –either on self-drive or driver guided safaris.
Access to Amboseli NP is possible using any of its 5 gates including the Iremito gate, Airstrip gate, Meshanani, Kulunyiet gate, and Kimana gate.
Book an Amboseli Car Rental Today!