Cheap 4×4 Land Cruiser TXTZ Pop up Hire in Kenya for Safari
Get the very best experience out of your safari when you reserve a 4×4 Land Cruiser TX/TZ Pop up hire in Kenya that's designed to equip you with extra ordinary comfort and worry free- road experience.
Our 4×4 Land Cruiser TX/TZ pop up hire in Kenya is designed specifically for travelers who are planning to visit different parts of this East African country. Kenya has a unique diversity of ecosystems that range from mountains, forests, rangelands, arid lands, croplands, and urban areas to marine and inland waters.
The above places act as habitat to a number of wildlife species that you will be able to see with our 4×4 Land Cruiser TX/TZ Pop up hire in Kenya. National parks that you will definitely enjoy visiting with our Land Cruiser TX/TZ Pop up include; Masai Mara National Park, Amboseli National Park, Tsavo East and west National Park, Mountain Kenya National Park, Lake Nakuru National Park, among others.

With our 4×4 Land Cruiser Pop up hire in Kenya you can easily get a 360 view of different parts of the park that giving you an opportunity to have a close look at different scenic views, wildlife species and they roam around the area.
When looking for a 4×4 Kenya best car that's good around Nairobi, other towns or off-road, our Land Cruiser Pop up hire is the best option you can choose to rent.
And, with intelligent design and great handling, this 4×4 Land Cruiser TX/TZ pop up hire in Kenya is perfect for a trip up the mountains and beyond. Drive in comfort. form and function seamlessly combine to provide class-leading luxury – including a rear and front seat entertainment system and wide-ranging off-road 4WD technology.
Other features that you will definitely find in our land cruiser pop up include a working air conditioner (AC), comfortable seats, first aid kit, child safety door locks, USB and auxiliary input and much more.
Our 4×4 Land Cruiser TX/TZ Pop up hire in Kenya is available for both travelers who are interested on renting on a 4×4 self drive car hire Kenya basis or car rental with a driver. We assure you that we have the most disciplined and licensed drivers who are well versed with the road network in Kenya and beyond making sure you arrive to your final destination with ease and on time.
It also comes with a powerful engine to navigate through different terrains something other cars like a saloon car is unable to do.
This 4×4 Land Cruiser TX/TZ pop up hire in Kenya also comes with 5 doors which eases access for everyone planning to join you on a road trip, Kenya safari or business trip.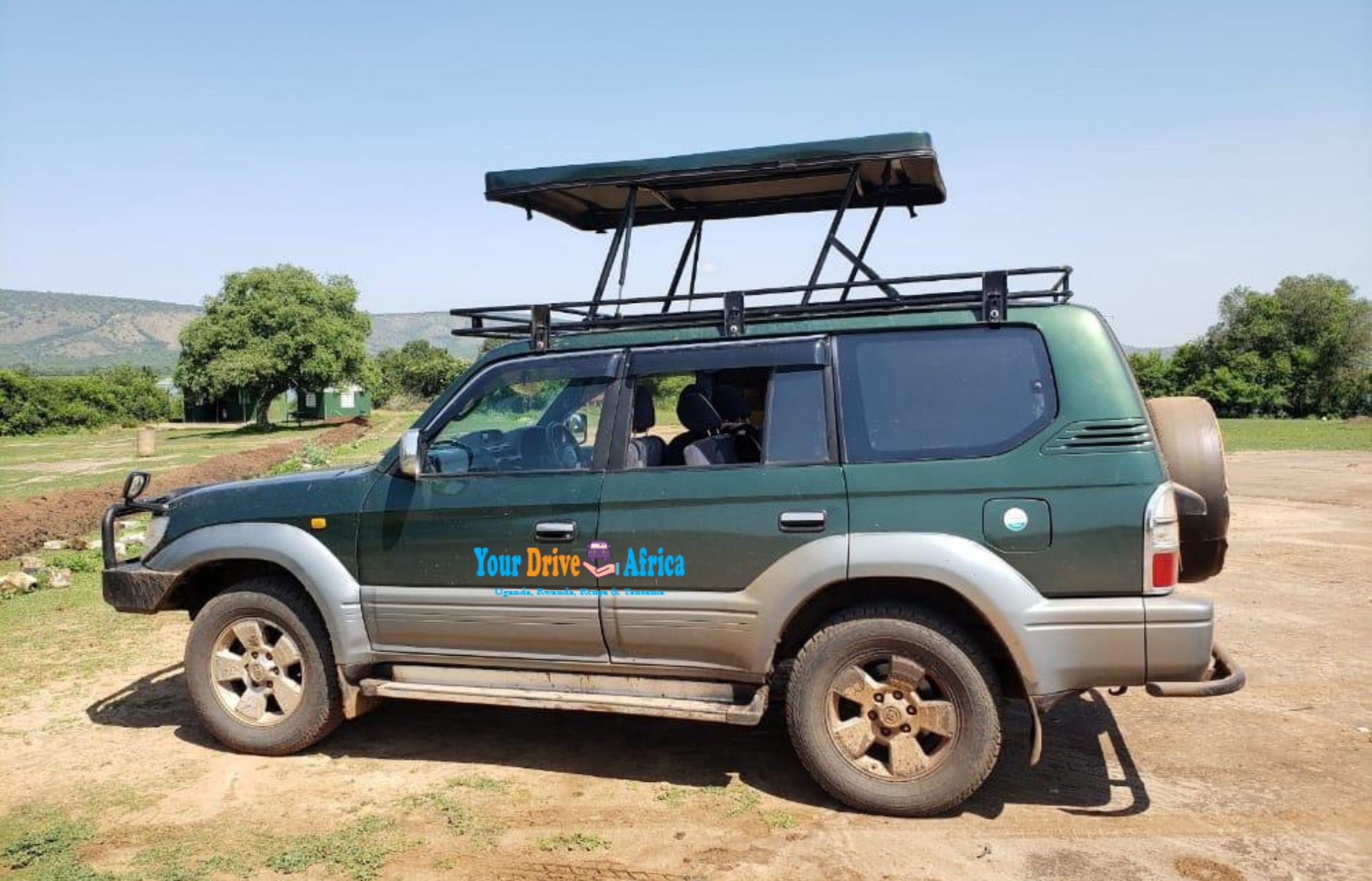 How much does it cost to hire a 4×4 Land Cruiser TX/TZ Pop up in Kenya?
The cost of a 4×4 Land Cruiser TX/TZ Pop up hire in Kenya is determined by the a few factors and these include; the number of days you are renting the car, the number of people and the destination you are likely to be heading to.
Our Land Cruiser TX/TZ Pop up hire costs only $80 per day if you are on a 4×4 self drive car hire Kenya and $120 if you are renting a car with a driver.
The beauty about renting from us is that we have no hidden costs on all our cars allowing you to go for a road trip without worry of being charged extra un planned costs. Our final price we give you covers unlimited mileage meaning we don't limit you on when and where you need to stop while with our vehicle.

How to hire a 4×4 Land Cruiser TX/TZ Pop up hire in Kenya?
Renting a land cruiser pop up is one of the best ways you can fully discover and explore Kenya and get to see so much that it does have within her boundaries.
And to do so, you can fill our request form with your details, the number of days, the pickup location, drop off and more. Our team will make sure they take you through the booking process and make sure your desired Land Cruiser TX/TZ Pop up is reserved.
You can as well reach directly on our WhatsApp number, +256 704538374 and our team will attend to you and make sure your preferred car is reserved.
Frequently asked questions;
Can I rent Land Cruiser in Nairobi with my foreign driving license?
That's right. You can now rent a Land Cruiser pop up or other models in Kenya with your foreign driving permit as long as it's valid and you have used it for more than a year.

How much fuel does Prado TX consume?
The fuel consumption of a Land Cruiser TX/TZ is low compared to other models of the car. For every 100KM, this spacious car consumes about 12.7 liters of fuel.
Is it safe to rent a car in Kenya?
Safety is everyone's concern as they plan on renting a car in any country and as for us, we assure you that once you rent a car from us and follow the road safety precautions, you will absolutely be safe.
Traffic Rules In Kenya;
for someone coming for a self drive in Kenya, this is the most important tip to consider. When driving in Kenya, you are supposed to stay on the right side of the lane. You are also expected to respect all other road users and the signage as well.
If you are looking for a reliable car in Kenya, our 4×4 Land Cruiser TX/TZ Pop up hire in Kenya is the most affordable, fuel efficient and still strong to get you anywhere you'd like to go within Kenya and beyond.
---
Rent a Land Cruiser TX/TZ with Pop up Roof: