Top 5 Places to Visit in Kenya with your Car Rental Kenya
Best Places to Visit in Kenya. Magical Kenya is a very amazing country located in the Eastern part of Africa. Due to its beauty, stunning landscapes and unique wildlife, Kenya is one of the most popular destinations in Africa especially if you are looking for adventure.
This beautiful country offers a number of attractions for every traveler. Whether you are a nature lover or simply having a luxurious relaxation at the beaches, Kenya has got you covered. So pack your bags and get ready to have the best moments of your life when you pay a visit to these places;
The Top 5 Best Places to Visit in Kenya:
Maasai Mara National Reserve
Maasai Mara locally known as The Mara is Kenya's most popular national reserve and a must-visit destination for wildlife and nature lovers. It is neighbors the Serengeti National Park of Tanzania in the North and it covers a surface area of about 1510 square kilometers.
Maasai Mara national reserve is home to the well-known Great Migration which includes millions of wildebeests, zebras, and gazelles crossing River Mara in search for greener pastures. Maasai Mara also harbors a wide range of wild animals which include cheetahs, lions, elephants, giraffes and many more.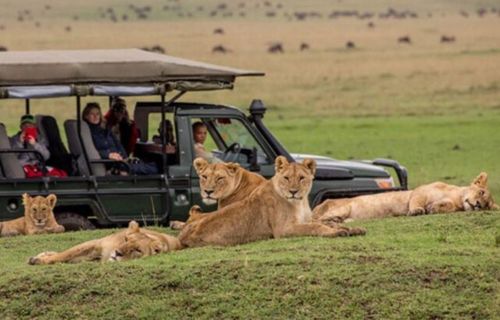 The Maasai Mara has very unique accommodation options that cater for all sizes of pockets and offer comfortable nights and local and international foods.
Nairobi National Park
Nairobi National Park is a unique and remarkable wildlife reserve located just outside the bustling city of Nairobi Spanning over 117 square kilometers.
It is the only national park in the world that is situated within a capital city's boundaries. The park is home to various animal species which include; Zebras, Giraffes, lions, hippos, rhinos, African buffalo, Impala, leopards among others.
Visitors to Nairobi National Park are more likely to enjoy morning and evening game drives though out the park, guided nature walks as well as camping experiences. Since the park is very close to the capital city, Nairobi, it is easily accessible for visitors.
Nairobi National Park offers a variety of activities for visitors to enjoy such as game drives which provide an opportunity to see the park's diverse wildlife up close, with expert guides leading the way, guided nature walks which allow visitors to explore the park on foot hence learn about the park's flora & fauna and camping for those looking to immerse themselves in the wild.
Amboseli National Park
Amboseli National Park which was locally known as the Masai Amboseli Game Reserve is located in Loitoktok district in the Rift Valley Province of Kenya. This park was named Amboseli a Maasai word which means "salty dust".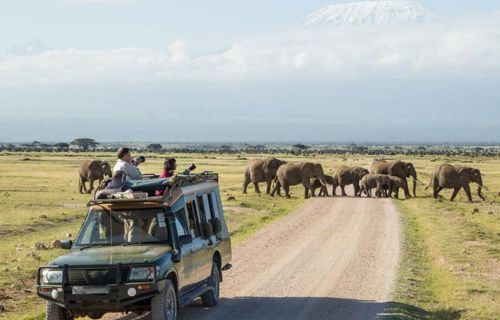 It seats on a surface area of about 3100 square miles making it one of the largest National Parks in Kenya. While in Amboseli National Park, you should expect to see a variety of wild animals and several bird species.
Among the animals to see in this park are; zebra, lions, cheetahs, elephants, giraffes among others and birds include; Grey crowned crane per day, Hamerkop, yellow necked spur fowl, African spoonbill, black headed heron and many more.
For the nature lovers, a visit to Amboseli National Park will never disappoint as the park has great views of land scapes and huge forests.
Diani Beach
Diani beach is a major beach resort on the Indian Ocean located 30 kilometers south of Mombasa, 10 kilometers long from Kongo River to the North and Gulu Beach. Diani Beach is one of the most popular and beautiful beaches in the whole world due to its crystal clear water, psalm trees along the beach and beautiful mounts of white sand.
Nairobi City
Nairobi is Kenya's Capital City and more so a great city to visit. The city is well known for its bustling markets, where visitors can find a wide array of local crafts and products, best hotels and others. Nairobi is a linking point to most of the beautiful destinations in the country and a starting point to almost all trips be it self-drive or guided trips.
This beautiful city hosts many tourist destinations which include museums, beaches, Giraffe center, Elephant Nursery, Karura Forest, Uhuru Gardens and many more. With all these, Nairobi becomes a very great destination to visit as it gives a very rewarding experience to travelers.
---
Rent a Car for Self-Drive Kenya: