Wilson Airport Car Rental Kenya; Cheap 4×4 Airport Transfers
Find the best 4×4 Wilson Airport Car Rental in Kenya for a safari at an affordable cost with our. Whether you want Wilson Airport Car Hire with a driver or self drive, 4×4 Car Rental Kenya has got you covered.
It is true air travel is the quickest and efficient means, especially if you want to connect to your destination, but have you thought about how you will be getting around after landing at the airport?
The whole idea about planning a trip to Kenya or any destination is to ensure that you have everything put in place right from set off till you land in at the country and return. The important aspect about early planning is that it helps you secure not only your accommodation but also means of transport to and from your destination.

Visiting Kenya for a vacation for first time or as a repeat comes with challenges. With our car hire services even if you are at Wilson Airport, your navigation is made simple. Unlike some airports, Wilson Airport serves both domestic and international traffic with majority being tourism, agriculture and health care sectors.
What about Wilson Airport Car Rental?
The Wilson Airport car rental is one of our car hire service segments intended to make travel in East African region more convenient, efficient and affordable for everyone. We have the best car hire deals suitable for all visitor plans on Kenya safaris –business, leisure and corporate meetings.
Hiring a car from us also comes with a higher chance for you enjoy some of our amazing discount offers with online booking and 24/7 booking support available to ensure that you have your ride booked early enough.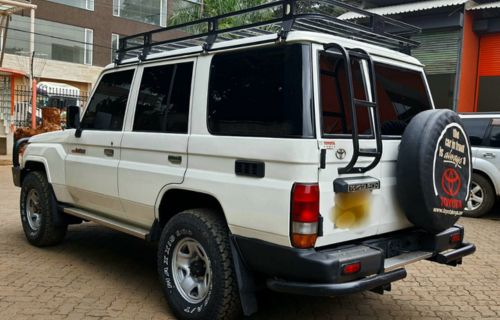 Some of our Wilson Airport car rental fleets- 5 seat Minivan rental, 7-seat Minivan, Economy, SUV Rental Kenya, Intermediate, compact rentals like Toyota Land Cruiser V8 and others. Our rental cars come with adequate interior room and boot thus guaranteeing you a comfortable travel no matter the destination.
How to Find Affordable Wilson Airport Car Rental?
Opting to hire a car at Wilson Airport? Here are some amazing tips to finding a classic rental car;
Book your Rental Car in Advance:
Nothing stresses like landing at the airport and finding no means to connect to your hotel or destination. You wouldn't want to wait till the last day to book your car yet it is possible to do so early enough.
Contact us for your Wilson Airport car rental service provider to book your favorite ride in advance before the actual date of traveling to Kenya.
Search for Discount Offers:
Not all companies do offer discounts on their rental cars. Luckily, this is possible when you hire a car with us. Reach out to our team, and feel free to request for discount offer.
Extra driver discount offer
When hiring a car, inquire from the service provider if you can have extra driver at free cost or will require you to make payments.
Free Car Upgrades;
Rent a car in Kenya with the company that can get you a free upgrade. Take time to look out for the upgrade offers and not to waste time, inquire from our team about our upgrade terms and conditions.

Wilson Airport Car Rental Tips:
If you are interested in self-drive tour, then consider searching for unlimited mileage.
Know the side of the road to drive from and speed limits in the city and motorways.
Drinking and driving are highly prohibited.
Review all charges on your invoice and have everything you have questions answered.
Is Wilson Airport busy?
Wilson Airport is found on the Southern side of Nairobi capital, and small in size but one of the busiest regional airports.
Is Wilson Airport a private airport?
Wilson Airport is falls under the supervision of Kenya Airports Authority –KAA. Unlike the Jomo Kenyatta Airport, Wilson Airport records fewer flight delays or even check ins because it usually receives business executive aircraft for domestic and international travel.

---
You may also like;