Best Places to Go on Road Trip Kenya by 4×4 Car Rental Kenya:
What does it mean to go on a road trip in Kenya? Road trip Kenya is a perfect escape from the bustling and hustle life. A Kenya road trip guarantees you the best of bush-to-beach experience. You explore Kenya by car and with or without a guide, one beauty about road tripping.
Kenya by itself is a spectacular country and complete African destination, most popular for its diverse wildlife and scenic national parks, reserves and also endowed with distinct cultures and landscapes.
Road trip Kenya is a remarkable way for tourists on Kenya safaris to get to know about the Magical Kenya better. This is perfectly done using our classic 4×4 car rental Kenya, available for self-drive and driver guided road trips.

Driving yourself guarantees you ultimate freedom to explore every interesting tourist spot in Kenya. Start your road trip from Nairobi city depending on your itinerary, drive to your favorite destination with our super-friendly tour guides. Here are some of the most amazing road trips in Kenya worth considering;
Best Road Trip Kenya Packages:
Nairobi to the Masai Mara
Nothing leaves lasting memories like embarking on Nairobi-Maasai Mara National Reserve road trip. This is a 5-6 hour drive road trip Kenya taking you from Nairobi via Mai Mahiu-Narok to Maasai Mara National Reserve.
Get mesmerized by the majestic sights of the Great Rift Valley and breathtaking view of Mau escarpments. For enthusiastic photographers, this is one of the kind road trips to consider while in Kenya.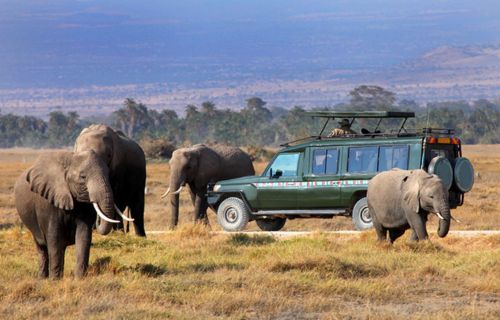 Connect to Narok town and proceed toward the Mara Intrepids situated right nearby the scenic River. This is a special road trip Kenya for guests who prefer viewing the wildebeest migration which usually occurs from July, August, September and October.
Explore Masai Mara Reserve tucked in the far Southwestern Kenya. It is in this spectacular reserve where the annual wildebeest migration occurs starting July to October. Maasai Mara is 1510sq.km and protects all the big five game, 450 species of birds and others.
Nairobi –Kisumu Impala Sanctuary
Embark on 350km road trip Kenya, 6 hours' drive setting off from Nairobi via Naivasha-Lake Nakuru and lastly arrive at Kisumu. The beauty about this road trip is that you will be exploring two cities –Nairobi and Kisumu. Get a warm welcome from the picturesque Great Rift Valley which also comes with abundant attractions.

Lake Elementaita is the other remarkable spot worth exploring, especially for birders. Marvel at the diversity of indigenous and exotic species of birds then continue to Lake Nakuru, a paradise for flamingo birds.
Your last stop will be made at Kisumu Impala Sanctuary, one of the best locations to find diversity of impalas plus several other mammal species.
Outdoor adventure at Mount Kenya
Tired of usual experiences? Tryout our outdoor adventures to Mount Kenya and you won't have regrets. Embark on Nairobi-Mount Kenya National Park journey, 213km requiring about 3 days. This road trip Kenya encompasses thrilling climbing/hiking adventures, wild camping, and so much more.
Mount Kenya National Park is most popular for its rugged glacier-clad summits and forested middle slopes of Mt. Kenya. This is one of East Africa's most stunning landscapes, and the park was gazetted in 1949 to offer protection to Mt. Kenya.
Aside from hiking, the park also shelters some interesting wildlife making it an ideal spot for game viewing. The common wildlife in Mount Kenya NP include black-fronted duikers, tree hyrax, elephants, waterbucks, leopards, giant forest hogs, bushbucks and 130 species of birds.
To Lake Turkana
If you are adventure seeker, then you have every reason to embark on a road trip from Nairobi to Turkana area, 6 to 12 day vacation. Rent a car via WhatsApp: +256 704538374.
Explore Lake Turkana National Parks; the crocodile filled Crater Lake and also traditional fishing villages. It takes you about half-day to drive to Samburu National Reserve. From Nairobi to Turkana area can be a long trip, but never disappoints.
Important Driving Tips in Kenya
If you have plans to embark on a road trip in Kenya, first, you should be aware of the nature of roads or routes to your destinations.
On the interesting bit, the main routes to Kenya's destinations are in their better state unlike other African destinations. But driving in some areas isn't for the faint hearted and better to start your road trip early so that you reach your destination at the right time.
4×4 Car Rental Options in Kenya
A road trip Kenya with no means isn't a complete trip. Find a sturdy 4×4 rental cars suitable for all road trips and you can opt for 4×4 Toyota Land Cruiser with or without pop-up roof.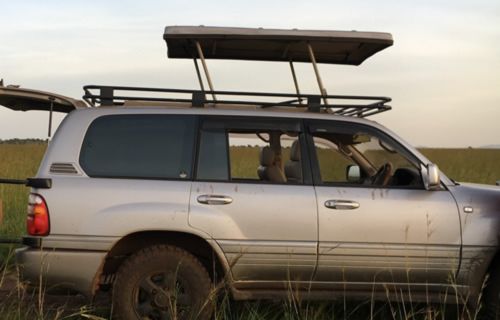 Hire a 4×4 Toyota Land Cruiser with pop up roof, a 6 window seats fully fitted with a long range tank of 140-180L. This is available in 4.2cc diesel engine, perfectly designed for all off-road driving experiences.
Land Cruiser Tx –the Toyota Land Cruiser TX/TZ is every traveler's favorite when it comes to safaris in Kenya. This is Japanese made vehicle, a perfect choice for navigating through any kind of road.
Nissan Patrol – find a full-size Nissan Patrol, a SUV selection with a 4.2L diesel engine and perfect for self-drive or even driver guided road trips.
Plan Your Road Trip Kenya!