Cheap 4×4 Nissan Patrol with Rooftop Tent for Hire in Kenya:
Embark on self drive safari in Kenya with our 4×4 Nissan Patrol with Rooftop Tent at an affordable price. Book now and enjoy a blend of comfort, reliability and value.
Boasting of its long-time reputation as a nice-driving large 4×4 Kenya wagon with remarkable off-road capability and a proven track record as a great towing platform, Nissan Patrol with rooftop tent is with no doubt every adventure seeker's favorite ride. This is the perfect car you can rent if you are interested in camping safaris in Kenya.
Imagine spending your time in the wild, watching the stars from your mounted rooftop tent and waking up to the sound of birds or any other wildlife species? It's an unforgettable experience that our Nissan Patrol with rooftop tent hire does offer.

There are countless self drive Kenya rental cars to choose for road tripping in Kenya, but none beats the 4×4 Nissan Patrol, one of the best models produced by Nissan also one of the top car manufacturers in Japan.
The iconic Nissan Patrol is credited for its versatility and also stands out among the luxury ride options. Considering its 4×4 wheel capabilities, the Nissan Patrol with rooftop tent is amazingly the most preferred rental cars by visitors with plans to explore the remotest part of Kenya and prefer to rest in the wild.
With Nissan Patrol, there is no need to worry about the rugged terrains. It brings out the full adventure experience with comfort guaranteed in any of the off the beaten track destinations regardless of the region you will be visiting in Kenya.
Book our Nissan Patrol with a rooftop tent rentals and prepare for an adventure of a lifetime. Be prepared to conquer the tough terrains in Kenya's National Parks, and other amazing destinations. We have the best 4×4 Nissan Patrol with capacity of 3 to 5 pax.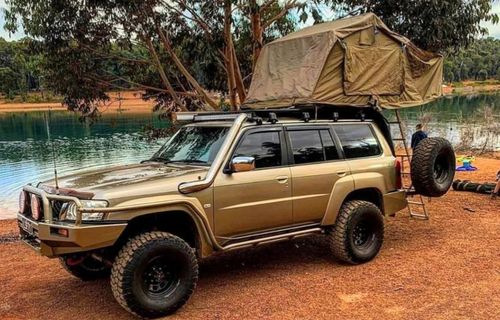 Features of a Nissan Patrol with a Rooftop Tent;
Our Nissan Patrol rentals come with amenities/features such as CD/DVID/MP3 player, Air conditioner and luxurious leg and luggage room. It is a preferred rental car for visitors on Kenya safaris, leisure road trips, business project and other trips.
Aside from internal features, the exterior design is amazingly unique. It is stylish and fully equipped with 5.6L V8 engine and off-road monitoring systems. Start your journey to discover Kenya, drive to any part of the country with ultimate confidence.
The Nissan Patrol's grades often come with leather seating –brown trim, enhanced airflow and climate control. The Ti-L grade also features seat heating and cooling. Even if you plan to pull a heavy load for work/for weekend gateway, our Nissan Patrol with rooftop tent will definitely make your trip a memorable one.
Our Nissan Patrol comes with a rooftop tent that allows you to spend your time in any of the designated places for camping in Kenya.
We have both single and double rooftop tents that can be mounted ontop of the vehicle for those who are coming as a couple or more than two people respectively. These rooftop tents are water and dust resistant making it safer for you even when it rains.

Whether it's a single, double or family rooftop tent, it will come with a built-in foam mattresses attached on a flat surface to sleep on and with proper ventilation to ensure there's proper air circulation in the tent as you sleep.
On top of that, we do avail the rooftop tent with the necessary camping gear you will need to have a rewarding experience in Kenya and some of these items include a cooking gas, table, chairs, sleeping bags, BBQ grill utensils, electronic fridge(at an extra cost) and more other items.
Our Nissan Patrol with roof top tent rides which you can rent on self drive Kenya basis or car hire with a driver, comes with 3500kg brake towing capacity and you can tow with confidence. All our Nissan Patrol rentals are full-sized SUVs series, made by Nissan in Japan.
Since 1951, the Patrol has existed as either a short-wheelbase 3 door or long wheelbase 5-door. The Nissan Patrol has evolved over several generations and remains more powerful. Rent easy, WhatsApp: +256 704538374.
Can you put a rooftop tent on an SUV?
Our Nissan patrol is a complete SUV and strong enough to handle either a single or double rooftop tent. Whether you are traveling with a friend(s) or loved one to explore Kenya and what it has within her boundaries, we assure you that the single, double or family rooftop rooftop tent on a Nissan Patrol will be able to accommodate you all.
Tips you need to know before you a rent rooftop tent Kenya;
Renting Nissan patrol with rooftop tent in Kenya is one of the best ways you can fully explore so much that the East African country has to offer whether in Masai Maara National Park, Amboseli National Park or any destination. But before you rent the spacious vehicle, these are key facts you should bear in mind.
If you are on a self drive Kenya, make sure before our guide leaves you with the car, you have fully understood the steps to mount and unmount the rooftop tent on the Nissan Patrol. This is crucial as it equips you with the techniques you need to mount and unmount it when you're alone.
With a Nissan Patrol with rooftop tent, we advise you not to exceed at least 80KM/hr speed while driving on any road in Kenya for your safety and for the car to balance. When the car has a rooftop tent, the weight seems to be higher and heavier than before.
You should also make sure the ladder is locked and stable before you climb to the tent.
Make sure you have closed the rooftop tent very well before you proceed to drive to stop rain and dust from entering.
---
Rent a Nissan Patrol with Roof top Tent in Kenya!
---
Is Nissan Patrol a luxury rental car?
The new Nissan Patrol model is a complete SUV brand and has already made record for its premium and capable image.
The new model is luxurious and powerful. If you are interested in off-roading, there is no better choice than 4×4 Nissan Patrol.
What is the clearance of Nissan Patrol?
We hire out full time 4×4 Nissan Patrol with 272 mm ground clearance and 3500kg braked and 750kg unbraked towing capacity. They are fitted with final gear ratio of 3.357.
Is Nissan Patrol with Rooftop Tent Worth Renting?
YES! A road trip using Nissan Patrol with a rooftop tent doesn't only guarantee money value, but also offers ultimate comfort.
Is Nissan Patrol with Rooftop Tent Reliable?
Unlike other cars, Nissan Patrol is tried, tested and has a proven track record. It is a reliable rental car deal for anyone looking for a means to travel comfortably on off-road trip. Nissan Patrol has had decades of rock/toughest terrain reputation.
How is fuel consumption of Nissan Patrol with rooftop tent like?
Nissan Patrols come with a braked towing capacity of 3500kg and an unbraked capacity of 750kg. In average, they consume about 14.4 L per 100km.

What makes Nissan Patrol special?
Nissan Patrols are renowned for their unmatched off-roading capabilities, making it easier for visitors to navigate smoothly in any terrain.
They are built with robust and reliable suspension which makes it the best to move through the bumpy roads.
How much is hiring a Nissan Patrol with rooftop tent car?
Available in manual transmission, diesel engine and ideal for unlimited mileage, Nissan Patrol with a rooftop tent can be hired at USD 80 during the off season or USD 85 during peak season.
Book Nissan Patrol for self-drive road trips, driver guided Kenya safaris, business trips in Nairobi and other towns or leisure travel in any part of East Africa.

---
Related Cars;