Guide to Masai Mara National Reserve by 4×4 Car Rental Kenya:
Masai Mara National Reserve also most popular as The Mara Reserve is not only Kenya's leading destination but also one of the world's most visited wildlife destinations. Masai Mara offers full wildlife expedition with nature lovers guaranteed of 360 degree game viewing experience.
Location
Masai Mara is situated in the Southwestern side of Kenya, Narok County extending towards the Tanzania border. To the South, this reserve is surrounded by Serengeti National Park and in other parts; there are Masai pastoral ranches and Siria escarpment. Masai Mara Reserve was officially declared as a reserve in 1961 and occupies the land area of 1510sq.km.
The Northern edge falls within the Mara-Serengeti eco-system, an area that encompasses over 25,000sq.km. Masai Mara's landscape is characterized by open grassland and seasonal river lets.
Rent a Land Cruiser V8 for your Masai Mara Safari.
Wildlife in Masai Mara National Reserve;
Masai Mara Reserve boasts of its abundant wildlife species which include small and large mammals, reptiles and others.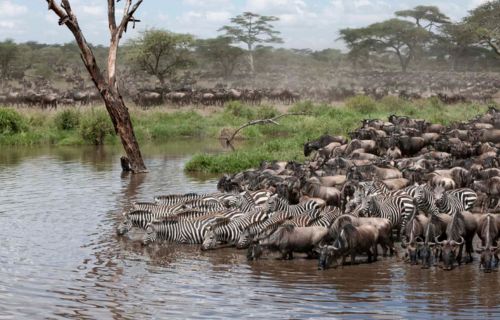 They include the plain zebras, wildebeest, Thomson's gazelles, topis, African buffaloes, lions, African bush elephants, Thomson's gazelles, African leopards, black and white rhinos, elands, warthogs, impalas, cheetahs, hippos, crocodiles, African wild cats, aardvark, spotted genet, civet, porcupines, and more.
Birdlife
Masai Mara National Reserve is a perfect place to explore the savanna and semi-arid species of birds.
The birds to identify in the Mara Reserve include lappet faced, superb starling, lilac breasted rollers, Tara river cisticolas, hinde's pied-babbler, Aberdare cisticolas, secretary bird, Kori bustard, turkey-sized ground hornbills, William's lark, Giant kingfisher, Schawlow's turacos, francolins, square-tailed nightjar, swamp nightjars, pennant-winged nightjars, Slender-tailed nightjars, Eurasian nightjars, cranes, crakes, coots, rails, African spoonbills, sacred ibis, and lapwings, plovers, others.
Top Things to do in Masai Mara;
Great Migration Experience
From June to October, Masai Mara National Reserve has something special for nature enthusiasts to witness and that is the Great Migration. An estimate of about 1.5 million wildebeest cross Tanzania borders from Serengeti National Park to Masai Mara Reserve.
During the migration, wildebeests are accompanied by other numerous mammal species, These include topis, zebras, gazelles, elands, and more. As you observe the Great Migration, don't leave out the cheetahs, lions, elephants, hyenas, and bird species.
Plan your Masai Mara Wildlife Safari via WhatsApp: +256 704538374.
Game Drives
Not all destinations do offer a complete big five game viewing experience. A visit to Masai Mara offers unforgettable big 5 game viewing experience.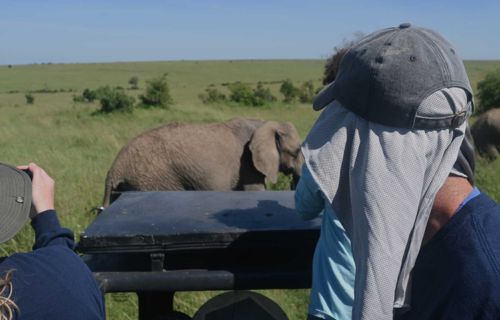 A full-big five list to look out for while on Kenya safaris in the Masai Mara include leopards, lions, elephants, rhinos, cape buffaloes, and in addition, you can also spot other animal species such as giraffes, zebras, cheetahs, hyenas, and more.
Available sessions include morning, evening and night game drives, all rewarding visitors with uniquely amazing experiences.
Book a Safari land Cruiser for your game viewing trip.
Balloon Excursions
Aside from the traditional ground game drives, Masai Mara is a preferred destination for balloon safaris. You have a full one hour plus to enjoy aerial view of the Mara Reserve sweeping plains and its abundant wildlife.
Possible sightings on Mara hot balloon safari include giraffes, elephants, buffaloes, and many others.
Birding
Masai Mara National Reserve, home to 470 species of birds is a preferred birding destination.
They include lappet-faced vultures, Caspian plovers, black-winged lapwings, long-toed lapwing, black bellied plovers, wattled lapwings, Senegal lapwings, ruddy turnstone, African jacanas, curlew sandpipers, little stint, spotted redshank, African snipe,
Double banded courser, Gull-billed tern, Bronze winged coursers, gray hooded gull, Yellow-billed storks, saddle billed stork, woolly necked stork, African darters, Lon tailed cormorants, pelicans, flamingos, little bittern, purple herons,
Rufous-bellied heron, Madagascar pond herons, white-backed night herons, African sacred ibis, lappet faced vulture, hooded vulture, palm nut vulture, white backed vulture, black winged kite, little sparrow hawk, African marsh harriers, Augur buzzard, Black goshawk, African scops-owl, African grass-owl, African fish eagle, Narina trogons, speckled mouse bird, blue napped mouse birds, black and white casqued hornbill, etc.
Checkout our Kenya Car Fleet for your car rental services in Kenya.
Maasai Village Tours & Cultural Experiences
If you are visiting Masai Mara National Reserve for the first time or even as a repeat visitor, a cultural tour in Masai community should be a must-do.
The cultural visit at Masai community allows you to interact with the Masai people, enjoy their unique dances and music performances, learn about the different traditions and practices, etc.
Bush Walks
The best location to start your walking safaris in Masai Mara National Reserve is around the Maasai Mara's basecamp. Unlike game drives, guided game drives offer remarkably memorable wildlife sighting while in their natural habitat.
The hard-reach locations by vehicles can be accessed on bush walking with opportunity to encounter dozens of wildlife species.
Camping
Enjoy a close interaction with natural endowments in Masai Mara on a memorable guided camping experience. The reserve is set in the suitable area for camping tours and even some accommodation options do support or offer camping expeditions.
Find the best deals on car rental Kenya in camping gear.
When to Visit Masai Mara National Reserve?
Masai Mara gates are open to guests all year round. However, the most preferred time to witness the Great Migration is from June to October and the must-enjoy session is the Mara River crossing.
Where to stay?
Available lodges and camps to retire for the night in and around the Masai Mara National Reserve are many ranging from budget to luxury.
Along the Northern circuit, places to retire for the night include Kicheche Bush Camp, Royal Mara Safari Lodge, Ngare Serian, Enkerende Tented Camp, Ol Seki Mara Camp, Mara Plains Camp,
Mara River Lodge; Eastern circuit consists of Fig Tree Camp, Entumoto Safari Camp, Leleshwa Camp, along the Southern circuit, book The Sand River Masai Mara Camp, Angama Mara Kilima Camp, Kichwa Tembo Tented Camp and others. In addition, book Masai Mara Serena Hotel, Basecamp Masai Mara and Pride Inn Mara Haven.
Getting to Maasai Mara Reserve
Getting to Maasai Mara Reserve from Nairobi is all possible both by road and air. It is about 6-7 hours' drive from Nairobi city to the Mara Reserve in Narok County, Southwestern Kenya.
By air, connect from Nairobi on a flight to any of the airports/airstrips in and around Masai Mara National Reserve: Serena Airstrip, Keekorok Airstrip, Ol Kiombo Airstrip, Musiara Airstrip, Kichwa Tembo and Ngerende Airstrip.
Plan your Masai Mara Safari Today!