Best 4×4 Land Cruiser GX for Rent in Kenya at a Cheap Price
Land Cruiser GX offers a perfect manual driving experience in Kenya. Rent Land Cruiser GX with or with no rooftop tent for self-drive tours in Kenya. Land Cruiser GX rentals are among the newest Land Cruiser models and superb grand SUV models.
Since its launch on Kenyan market, Land Cruiser GX has proven to be the first choice for self-drive visitors on Kenya safari. You can hire this car alone with pop-up roof or both the car with fitted rooftop tent and other camp gear. By nature of its design, Toyota Land Cruiser GX rental is perfect for game viewing, photography and all terrain road trips in Kenya.

Our Toyota Land Cruiser GX cars are full time 4×4 rentals and slightly luxurious in the interior compared to Toyota Land Cruiser Prado. They come with powerful engine, and built strongly offering a safe and comfortable road trip even in the remotest part of Kenya.
Due to their luxurious interior, both passengers and luggage can be accommodated with no worries of inadequate space or inconveniences. Talk to us about 4×4 Car Rental Kenya via WhatsApp: +256 704538374.
Apart from self-drive tours to Kenya's National Parks or Reserves, Land Cruiser GX rentals are also preferred by NGOs, farmers, government officials. They are credited for their remarkable road performances unlike any 4WD Jeep.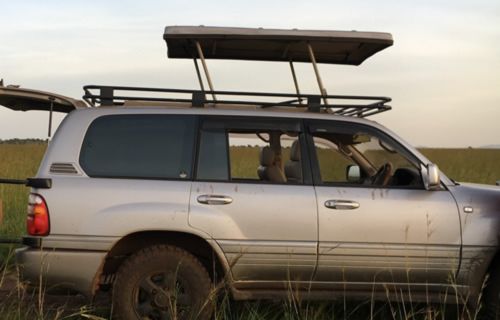 They come with the best suspension and full time 4×4 wheel system. When it comes to fuel consumption, Land Cruiser GX rentals are the best for anyone who desires saving on fuel costs.
4×4 Land Cruiser GX Features
Our Land Cruiser GX cars are fitted with 230 horsepower, 4.7L engine size, 9.5L/100km diesel fuel consumption rate, 5 doors, seat capacity of 5pax, transmission system –manual and automatic, fuel type –diesel and petrol, Radio, CD player, powerful steering, ABS, seat belts, Air conditions, MP3 and USB port, foot handlers, huge trunk, spare tyre, wheel spanner and jack, rooftop tent (but availed on request), ground camp gear (provided on request), and comprehensively insured.
Why Land Cruiser GX?
Ultimate comfort on a road trip.
Convenient vehicle to drive.
Perfect for toughest terrains.
Amazing features that your travel memorable.
Rent a Toyota GX Today: