4×4 Rental Kenya – Best 4 Wheel Drive Car Rental in Kenya
4×4 Rental Kenya, 4 Wheel Drive Car Rental Kenya –find classic 4×4 rental cars suitable for all you Kenya safaris and holidays. Hire a 4×4 rental car in Nairobi, Kenya, drive to any part of Kenya at the most affordable rate.
4×4 Rental Kenya still stands out as the leader for Kenya off-road trips. Get your favorite ride now with or with no driver, 4×4 rental car with pop-up roof, one-way car rental from Kenya, short and long term car hire in Nairobi, Kenya.
Rent your next adventure with ease, WhatsApp me Today! +256 704538374.
From the first start, we haven't deviated from our set goal of providing and meeting all travelers' needs.
Reach out to our team for a comfortable ride for group travel, wildlife safaris in Kenya National Parks or Wildlife Reserves, airport pick up & transfers, business trips, city excursions, weddings, corporate travel, adventures/off-road safaris to any travel destination in Kenya, East Africa –self-drive or driver guided, to mention but a few.
Our Top Selection of 4×4 Rental Kenya Vehicles:
Land Cruiser TX/TZ
Credited for their powerful performance, Land Cruiser Prado TX/TX with no doubt is the best selection for all Kenya safaris. Worry not about rugged terrains on Kenya holiday because 4×4 Prado TX or TZ is the leader.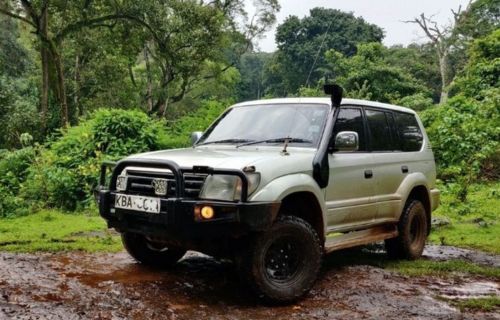 Prado TX is a classic and considerably the cheapest model, renowned for its fuel economy. This comes with seating capacity of 5pax and maximum tow rating of 1500kgs. Find the best Prado TX, an automatic petrol/diesel transmission with mileage of 8km/L recommended for all rough terrain road trips.
Prado TZ is slightly more expensive than TX, and is fitted with cozy interior. This is most preferred for large family travels. Unlike TX, Prado TZ comes with extra features.
Toyota Land Cruiser V8
Land Cruiser V8 is a 2008 model known, legendary ride reliable for rugged road trips regardless of the destination. Nothings 4×4 Land Cruiser V8 rentals' way when it comes to terrains.
With Land Cruiser V8 rental cars, expect great performance and unmatched luxury comfort. We have both automatic and manual Land Cruiser V8 for hire perfect for on and off-road travel in Kenya.
Land Cruiser Hardtop
Get Land Cruiser Hardtop 70 series, a customized safari rental car selection. This is available with pop-up roof and extended chassis with capacity of 7pax. It is a reliable car option for all African off-road vacations.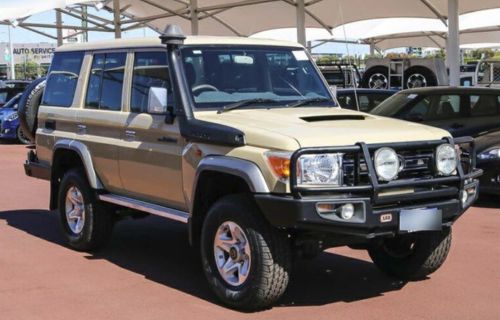 If you are visiting Kenya for wildlife safaris/game viewing, then you have all the reasons to consider Land Cruiser Hardtop for your road trip.
Toyota Rav4
Compact in size, Toyota Rav4 is Japanese automobile made fitted with a full time 4×4 system. Hire Rav4 available either in a 5-speed manual/4-speed automatic transmission options.
This is the best car hire for self-drive safaris in Kenya or city running in Nairobi. Rav4 rental selection also have features such as FM radio, CD/MP3 player, and seat capacity of about 4 people with adequate space for guests plus cargo.
Nissan Patrol
Think of a robust SUV ride for off-road trips, and think not beyond our Nissan Patrol rentals. Available with a 4.2 L, diesel engine, 5-speed manual 4WD option, hire Nissan Patrol for self-drive tours in Kenya at the lowest price.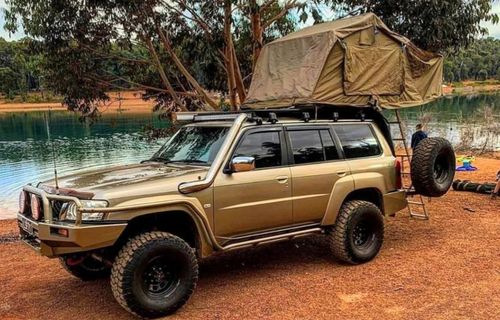 Why 4×4 Rental Kenya?
Enjoy unlimited mileage with no excess.
Special rates and offers for return guests.
Many rental car options to choose from.
Well-serviced and highly quality rental cars available for you.
Free cancellation.
Professional drivers.
24/7 Road assistance.
Where to Find your 4×4 Rental in Kenya?
4×4 Rentals in Nairobi.
4×4 Rental Car Mombasa.
Eldoret 4×4 Car Hire.
Rent a 4×4 Vehicle in Kenya!