Affordable Land Cruiser V8 for Hire Kenya; Rent Toyota V8/VX
Explore Kenya differently in your dream ride – Land Cruiser V8 for Hire Kenya. Dubbed the "big daddy" of Toyota SUV, the Land Cruiser V8/VX full-size SUV, a perfect ride renowned for its powerfulness when it comes to rough roads.
It comes with a distinct design suited for off-road driving and if you have any plans to travel to any remotest, rocky or muddy areas in Kenya, then Toyota Land Cruiser V8/VX Kenya is the ideal option.

We have clean and well-mechanized Toyota Land Cruiser V8 for hire Kenya at the most affordable rates. Experience the state of luxury on Kenya road trip using our Toyota V8 rental cars. Not only are Toyota V8 rentals credited for their power and remarkable off-road capability, but also they are reliable and durable.
Toyota V8/VX rentals are some of the exceptional and most sought for vehicles for road tripping in Kenya and many other purposes. To others, they are symbol of wealth and power making them the most preferred for top government officials.
The Toyota V8 dates back to 1951 which makes it the longest running production Toyota car. It listed among the most powerful rental options perfect for off-road driving and competes against the Land Rover Discovery, Nissan Patrol, and several full-size luxury SUV rentals in Kenya. Our 4×4 Land Cruiser V8 for hire Kenya come with great features.

Specifications of Toyota Land Cruiser V8 for Hire Kenya;
Toyota V8/VX cars are about 196.5 inches long, 77 high and 78 inches wide also listed among the latest series. They are luxurious credit they take when it comes to accommodating not only guests comfortably but also their luggage.
They fitted with all-terrain tyres, a rear-seat DVD entertainment system, headlights, leather upholstery, Bluetooth connectivity, sunroof, automatic climate control, heated and cool front seats, and others.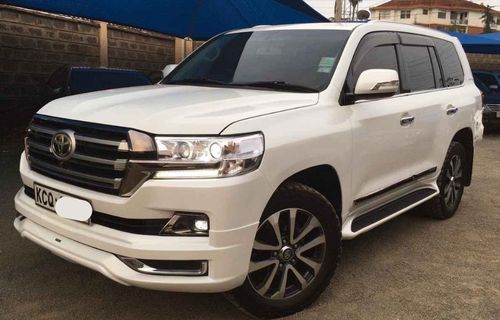 How Luxurious is the Land Cruiser V8?
Toyota Land Cruiser V8  for hire in Kenya come in big sizes and boxy shapes, with guests guaranteed of adequate space in the interior with capacity of 5 to 8 visitors. Head and legroom are all guaranteed accommodating adults comfortably.
The beauty about these rental cars is that everything in the interior is perfectly laid out. They come with adequate storage compartments across the 3 rows. The boot features adequate space that can take up all visitors' luggage.

Is the Land Cruiser V8/VX fuel efficient?
Yes. If you are looking at saving on fuel on Kenya road trip, then you have every reason to rent Toyota Land Cruiser V8. You can hire Toyota V8 diesel engine or petrol engine option.
They have powerful engine with capability to deliver a fuel economy of up to 7km/L whereas the diesel engine can take 9.7km/L. This may vary depending on the age of the car.
Ground clearance of Land Cruiser V8
Toyota V8 often come with ground clearance of about 231mm, and this is even beyond the recommended Kenya's road ground clearance which is 165mm.
This guarantees you ultimate confidence while navigating on the murram or dirt roads.

Reliability
Unlike other vehicles, Toyota Land Cruisers are reliable. They are established by the world's recognized car manufacturers and in many occasions, they are among the few SUV vehicles with high reliability ratings.
If well-maintained, you can even exceed a total mileage of 300,000km.
Why Land Cruiser V8/VX?
Beyond comfort, Land Cruiser V8 rentals are perfect for game viewing. You can find a customized Toyota V8 with pop up roof/sunroof. They are the best option for family trips, long-distance road trips and others.
You can choose from automatic to manual transmission Toyota V8 rentals. Reach out to us today on WhatsApp: +256 704538374 or Email us at info@4x4carrentalkenya.com for bookings.
Available Land Cruiser V8
You can hire Toyota V8 of your choice. They come in different colors –black, silver, wine red and Perl white.
Rent a Land Cruiser V8 in Kenya:
---
You may also like;