4×4 Land Cruiser VX Pop up Hire in Kenya – Your Drive Kenya
Are you looking for a perfect car for self drive Kenya? Our 4×4 Land Cruiser VX Pop up hire in Kenya deals are so far the best, affordable & reliable for either solo safaris or group safaris to the East African country.
Our 4×4 Land Cruiser VX pop up hire in Kenya is popular among travelers who are planning to go do game drives in Kenya's national parks. With the pop up you will get the ultimate camping experience allowing you to raise it and have a 360 view of different corners of the park.
This gives you the opportunity to have a look at different wildlife species as they roam around the national park and beautiful scenes as well.

Kenya has a rich and unique ecosystem that you can see well when you hire a Land Cruiser VX Pop up. This include mountains, lakes, the Great Rift Valley, rivers, inlands, the coast line and so much more. This enables you capture that award winning wild photography- an experience like no other.
This 4×4 Land Cruiser VX pop up hire in Kenya comes with a stronger engine helping you navigate different terrains in different parts of the country. With this you can go anywhere anytime without worry that the car might not get there.
Our 4×4 land cruiser VX Pop up hire in Kenya cars also come with amazing features like a fully functional air conditioner (AC), first aid kit, a beautiful interior, a functional entertainment system with both Bluetooth and aux enabled speakers, USB ports to enable you charge your devices, comfortable seats, camping gear (at an extra cost), a fridge (at an extra cost), GPS and so much more.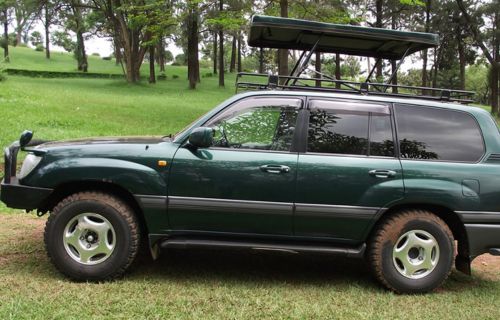 How much is renting a 4×4 Land Cruiser VX Pop up Hire in Kenya?
The cost of 4×4 Land Cruiser VX Pop up hire in Kenya is quite pocket friendly and designed so that it does fit within your wallet. Our 4×4 Land Cruiser VX Pop up hire in Kenya cost goes for only $120 per day for self drive and $160 per day with a driver.
Our cost also includes unlimited mileage meaning we don't charge you when you exceed specific locations. When you are with our car, we want you to enjoy the freedom of traveling to any destination you would want to visit without worry about being charged an extra cost.
We also don't have hidden costs. The 4×4 Land Cruiser VX pop up hire in Kenya price we give you is always the final and you will not be required to pay an extra charge after we given you the car.
If you are hiring a car for more than one month, we will be able give you up to 20% discount.

How to rent a 4×4 Land Cruiser VX Pop up in Kenya?
With a Land Cruiser Pop up hire, you will be assured of a rewarding and un forgettable safari in Kenya since it presents to you more than enough that you can capture right onto your device.
To hire this spacious ride you will need to fill our request form with your details, the number of days you will need to hire the car, the number of people and the destination as well.
Our team will get in touch with you and make sure they process the 4×4 Land Cruiser VX pop up hire in Kenya booking, reserve your vehicle once you confirm the booking.
You can as well reach out to us directly on +256 704538374 available on WhatsApp too and our team will make sure they get back to you as soon as possible to process your booking.
Traffic Rules in Kenya;
When driving in Kenya, you are expected to drive from the left side of the road and also get to respect all the road users plus signage as well.
Traffic officers are friendly in Kenya and in case they do ask you to stop, you will need to stop for them to confirm whether you have the right documents and see whether the car you are driving is in the right conditions.
Once they find you have no offence, you will be set free to continue with your trip. You may also like; Tips on Renting a Car in Kenya.
Overall, if you are looking for an affordable car to use while on a road trip in Kenya, we have a long fleet of cars you can choose from. Contact us today or anytime and we will take you through. If you have an inquiry about 4×4 Kenya, car rental with a rooftop tent in Kenya and more, we have a team that can give you the very best information you need.
---
Rent a Land Cruiser VX Pop up Today!
---
Frequently asked questions;
Can I get a safari Land Cruiser for hire Kenya?
Absolutely right. We have safari Land Cruisers for hire in Kenya for anyone coming or visiting Kenya and would like a reliable and perfect car designed to take them through the country's top destinations. Reach out to us and we will avail this vehicle.
Can I self drive in Kenya?
If you are looking for a car for self drive Kenya, talk to us because we have the very best, affordable and reliable cars for hire in Kenya. All you need is a valid copy of your driving license and a copy of a valid passport, we will then take you through the booking process.
What is the maximum age limit of renting a car in Kenya?
To have a car like the 4×4 Land Cruiser VX pop up hire in Kenya availed to you, you have to be at least be between 25 years and 65 years. Travelers aged between 21-25 years will be charged an extra amount of money.
What is required to hire a car in Kenya?
You will need a valid driving license or an international driving permit to be allowed to drive on Kenyan roads. Additionally, you will also be required to provide a copy of your valid passport.