13 Essential Tips on Renting a Car in Kenya
Checkout our Tips on Renting a Car in Kenya to help you get the best car rental deal and prepare you for everything in regard to car rental in Kenya.
From the Great Migration to the Big five game, Kenya is undoubtedly Africa's premier destination. Visit Kenya and explore the country's finest destinations. Kenya is still stands out as the most favorite destination thanks to its unmatched experiences from unique Maasai cultures and traditions, wildlife to breathtakingly remarkable landscape viewing.
With plenty to explore, adequate planning is essential and this involves finding the right car for your road trip. Nothing brings you a perfect and memorable experience like embarking on a road trip in Kenya using a full time 4×4 rental car.
We have amazing rental car deals suitable for all kinds of trips in Kenya whether you plan to go on a business trip or safari to any of the country's parks/wildlife reserve.
When renting a car in Kenya, often there are challenges that come with it. They include finding the right vehicle to hire and car rental company to deal with. Not to make wrong choices, here is a complete guide to follow when renting a car in Kenya.
Top Tips to Renting a Car in Kenya:
Always have your documents ready
When you think of road tripping in Kenya, first, have all your relevant documents prepared. Every destination has the required documents when hiring a car and Kenya being your favorite destination, talk to your local expert to guide you.
For starters, here are some of the must have documents when renting a car: valid passport, proof of identity, visa, valid driving permit/license and others.
Inquire about extra fees and insurance
Before you commit yourself to renting a car in Kenya, first, ask your car hire service provider if there are hidden or extra fees/charges. Also inquire the insurance cover provided to the car you plan to hire.
Interestingly, the rental cars often come when insured except that you may also need to insure yourself just in case but insurance isn't a must-do requirement.
Conduct adequate research before renting a car
The reason we always advise our visitors to plan and book their trips and cars in advance is to allow them plan and carryout adequate research about the rental cars or companies they plan to deal with.
No need to be on a rush unless you urgently need a rental car in the next few hours.
Fully read and understand the fuel policy
Fueling policy usually differs from one company to another which is why you should read and understand it before hiring a car or inquire more details about it from your local company.
Book early
The demand for rental cars often increases during the peak season. Like any destination, consider booking your dream rental vehicle in advance.
Other than securing your best rental deal, you have room to negotiate for better rates or get discount offers and more.
Hire a car with a driver
While self-drive is perfect for adventure experiences, hiring a car with professional driver is the best. With the driver behind the wheel, you won't be left worrying about taking wrong routes.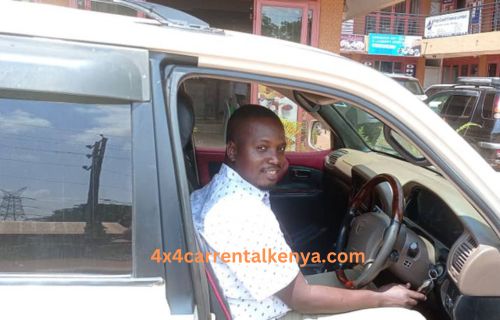 Besides, they understand better the traffic rules in the country and ideal time to travel to the different tourism destinations.
Know the company's age limit/restrictions
Age limit or restrictions is an important element when it comes to hiring a car in Kenya or any destination. The acceptable age limit to rent a car often falls between 23 and 25 to 70, but it varies depending on the company.
Find out the cross-border policy of Kenya
If your trip involves crossing borders to any East African country, you need to inquire from the company you plan to hire the car from about their cross-border policy using their rental car.
Border crossing using a rental car may require written permission and extra charges.
Deal with a reputable company
There are hundreds of car hire companies allover Kenya to rent a car from. But be aware that some aren't genuine and being first time, you may land on the wrong company.
First, conduct thorough research, check through the reviews and see what the previous clients have said about the same company you want to book a car with.
Respect the traffic rules while on a self-drive tour
Kenya like other destination has its set guidelines/regulations to be followed. On a self-drive tour, you must be keen and respect all the traffic rules. Drive as per the country's stated speed limits. If you aren't familiar with the regulations, consider hiring a car and driver.
Other important elements for self-driving in Kenya include booking the right car for your road trip and you should be guided by the kind of terrain, prices, and purpose of your trip.
Pay for your rental car using the details provided by the company
Don't rush and make payment otherwise, the money may go to the wrong account or person. Ask your company about the acceptable payment options before you send any monies to any account.
Often, companies receive moneys through PayPal, Mpesa, Credit or Debit card. All the payment details are usually available on the car hire company's websites or you can contact them and you will be provided with details.
Check your car before hitting the road
Before you set off to any destination, don't forget to conduct car assessment. Take time checking through the car to be certain that it has no damages, scratches, stains, etc and if any take record and present to the company you are hiring to avoid them counted on you.
Pricing
Carry out research on both the rental cars to use and their rates early enough before booking. The prices vary depending on the car type and how long you plan to use it.
The price for hiring a 4×4 Land Cruiser differs from that of renting a Toyota Rav4 or if you are hiring a car for long term or short term. Keep in touch with the reservation team who will be in position to avail you with details of each rental car rates.
---
Rent a Car Today!