Car Rental Kenya with a Driver/Guide (Chauffeur Driven Cars)
Get the best Chauffeur services in Nairobi by hiring a 4×4 Car Rental Kenya with a driver – professional guide. There are 2 options to choose when it comes to road trips in Kenya that is self-drive or driver guided safaris(Car Rental Kenya with a driver). We provide reliable car rental services throughout Kenya and we pride ourselves of a wide range of rental car options.
Visitors on Kenya safari can rent our 4×4 Safari Van, and 4×4 Land Cruisers. These and more guarantee tourists memorable guided big five game safaris or self-drive road trips. Our rental car options are suitable not only for town running but also to the far wilderness destinations such as Amboseli National Park, Masai Mara National Reserve and Tsavo NP.
Our car hire services can be booked independently, especially if you are undertaking self-drive tours. Even guests interested in Car Rental Kenya with a driver – driver guided road trips; you can hire a car with a professional driver guide.

Available Car Rental Kenya with a Driver:
Pick and drop off at different location
Professional/expert safari driver-guides and chauffer driven services
4×4 tourist vehicle and safari vans
Airport transfer services
Professionally maintained cars
Courteous, safe and experienced guides
Hire a Car with a Driver
Rent a car with a professional driver, explore Uganda differently. We have professional drivers who have undergone thorough training, very skilled and passionate about their work. With driver behind the wheel, a road trip in Kenya in a rental car guarantees you ultimate comfort and safety.
Reserve our pocket-friendly car rental services. Our wide range of rental cars mean you have several options to choose from.

Cost of Hiring a Car with Driver in Kenya
The cost of car rental Kenya with a driver/guide may vary depending on the kind of the vehicle and other factors.  A rental car in Kenya can hired at USD 159 per day and the cost covers the professional English-speaking driver guide.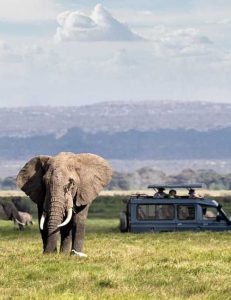 This price may also come with other amazing offers depending on how long you plan to be the vehicle. Given the high demand, please have your Kenya rental car booked in advance at least 2-3 months prior to actual visit to Kenya.
The demand for rental cars often becomes extremely higher during the peak months of the year –July to August.
Rent a 7 seater 4WD Land Cruiser –a full time 4×4 Land Cruiser visitors' first choice of rental cars when it comes to Kenya safaris.
Not only does this guarantees you ultimate comfort but allows you to enjoy uninterrupted views of wildlife.
A Land cruiser can be hired at price of USD 259 less/more. The price includes driver services and his allowances.
Guide to Renting a Car in Kenya with a Driver
Choose the pick-up location and dates in the booking form
Pick the right rental car that suitable for your trip.
Choose the pre-paid price/pay on the day of pick up- but first, inquire from the company the acceptable options of payment.
Select your extra services you may need.
Fill the contact details such that we know who the driver is.
Complete the booking stages.
Pick up the car with your identification documents.

Car Rental Tips
Don't get ripped off at the car hire desk. Here are some of the tips to put in mind when renting a car;
Book a car with a reputable car hire company
Know the different insurance options –ask if the car is insured.
Book your rental car in advance
Check age limit.
Inquire more about mileage limits and one way fees.
Frequently Asked Questions;
How much does is it cost to rent a car?
Whether you plan to rent a car in Kenya for a day, week, month or more, there are several options to choose from. But these come at a price tag. Rates range from USD 45 to USD 175 per day. Hiring a car for long-term may come with incredible benefits such as discounts.
What affects the price of renting a vehicle?
Once you have decided to hire car rental Kenya with a driver, next should be find a company to book your vehicle with. There are many car hire service providers to deal with when it comes to car rentals each with their set prices. But often, the major factor that affects the final price of your car hire is location. Hiring at the airport can be costly compared to if you dealt with the car hire service provider outside.
How old should you be to rent a car?
Any person intending to rent a car in Kenya for self-drive tours should be at least 23 years. The prices however vary depending on the companies. Check with your company you plan to hire your car what their acceptable age limit to rent a car and drive it.

What should you have to rent a car?
Valid driver's license/permits are required, passport, birth certificate, proof of address, and others.
What to do when returning a rental car?
When hiring a car, the company in their terms and conditions will state how, when and where to pick your rental car and drop off point. The terms should be observed to avoid extra charges if you dropped the car at the location that wasn't stipulated.
You may also like; Car Rental Kenya with Camping Gear.