Best 4×4 Self Drive Car Rental Kenya with Camping Gear
Rent a reliable 4×4 Car Rental Kenya with Camping Gear for a self-drive safari adventure. Car Rental Kenya with Camping Gear is possible and can be done at the most affordable rates.
Camping is with no doubt one of the best ways for enthusiastic travelers to immerse themselves in the wild and enjoy a close interaction with nature.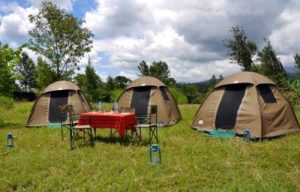 Embarking on camping vacation in Kenya using a rental car with rooftop tent is a perfect way to save on your safari. It means you don't need to stress yourself looking for tents alone and vehicle too. We have the best 4×4 Land Cruiser rentals fitted with rooftop tents.
You can hire a vehicle with single or double rooftop tent and while in the destination, you don't need to waste time setting the tent on the ground.
Your tent can be set up on your car roof. Go road tripping well-knowing that you have full-pack of camping gear right with you.
Considering this fact, you have ultimate freedom to explore several destinations without worrying of where to set your tent. Our rooftop rental cars come with rooftop tents with varying capacity, family rooftop tents accommodating up to 2 adults, & 2 children or rent a car with ground tents.

Cost of Hiring a Car with Rooftop Tents;
The cost of renting rooftop tent car does differ from the car type and company. A 4×4 Land Cruiser Prado fitted with rooftop tent can hired at USD 95 per day.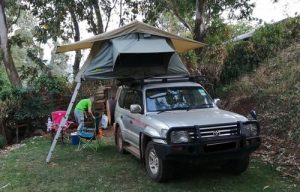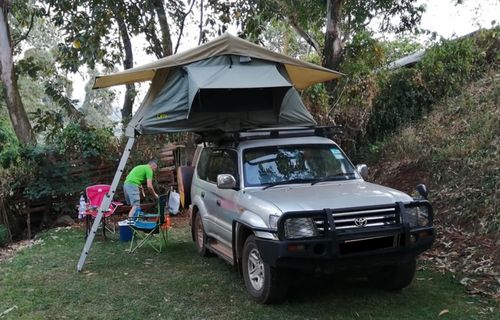 We have a strong 4WD Prado automatic transmission with full set of camping gear accommodating up to 2pax.
4×4 Land Cruiser V8 with two rooftop tents available at about USD 120 per day, and tents take up to 4pax.
The 4×4 Land Cruiser Hardtop with rooftop tent available for hire at USD 130 per day, 4×4 Land Rover Defender with rooftop tent for hire at USD 110 per day, Nissan Safari with rooftop which you can rent at USD 70 or embark on road tripping using a comfortable Land Cruiser GX with rooftop tent at USD 95.

How to Rent rooftop tent cars in Kenya?
Conduct thorough search online about rental cars in Kenya and company to deal with.
Choose the right rental car with the best camping gear.
Inquire about the rental car prices.
Negotiate on the rates.
Deposit money as guided by the company.
Car Rental Kenya with Camping Gear Tips
A valid driver's license is needed.
Verify the age limit with your company.
Choose the right rental car for your Kenya road trip.
Read and understand the company's terms and conditions for hiring a car in Kenya.
Book your rental car in Kenya in advance to avoid last minute stress.
Deal with a reputable car hire agency on ground.

Frequently Asked Questions;
What is included when renting camp gear?
Comfortable tent-rooftop/dome tent.
Blanket/sleeping bag, bed sheets & pillow.
Table and chairs.
Folding foam mattresses.
Cooking pots, frying pans.
Cool box.
Coffee percolator.
Gas tank and burner, BBQ roaster.
Cutlery set with forks, spoons, knives.
Solar table lamp.
Cutting board, etc.
What to carry on safari-ground tent/rooftop tent?
Choose from dome tents or rooftop tent rental cars. Each of these options comes with advantages and disadvantages. The rooftop tents are a bit safer and easier to set up but you will be wrapping the tents each time you want to use the car.
Why go camping in Kenya?
Besides being the perfect way to get close to nature, camping offers opportunity to budget travelers to explore in depth the different destinations in Kenya. In addition, most safari lodges inside Kenya's national park are a bit expensive and camping is by far a preferred option. Campsites often don't need any advance arrangements/prior booking.

Where can you go for camping in Kenya?
There are plenty of camping options in Kenya. Here are the top campsites to consider for your camping experiences in Kenya; Oloololo Public Campsite in the heart of the Maasai Mara triangle, Sandai farm an ideal camping site if you are visiting Solio Game Reserve, Ol Pejeta, Aberdare National Park; Malakai public campsite located in Lake Nakuru National Park, River Special campsite, and Cheetah campsite in Lumo Wildlife Community Sanctuary.
You may also like; Car Rental with Rooftop Tent in Kenya.