Safari Van Rental Kenya – 4×4 Van for Hire with Driver
Find the best Safari Van Rental Kenya deal with a professional driver guide and explore Kenya differently. Our Safari Vans are ideal for hire and exploring any part of Kenya whether you plan to go and immerse yourself in the magical savannas of Masai Mara or explore the spectacular Amboseli National Park.
Kenya is one of the premier African travel destinations and many visitors come for different reasons. Being a preferred destination, planning your trip involves securing a means to take you to and back from your tourist site. This requires you to secure a comfortable rental car in Kenya and certainly, a 4×4 Safari Van Rental is a perfect choice for your navigation.

We have a comfortable Safari Van Rental Kenya suitable for all road trips –self-drive or driver guided safari options. Hire our best Safari Van with capacity of 9pax or Toyota Hiace with seat capacity of 9pax. All the available options are perfect for small travel groups, family, or friends in need to explore and experience the most of Kenya and its wonders.
Amazing features of our Safari Van Rental Kenya;
Our 4×4 Safari Van Rentals in Kenya are fitted with all essential features making them the first choice of rental car for most Kenya safari travelers.
The common features include air conditioner, comfortable seats, large windows for guests to enjoy views of the wildlife and the country's breathtaking landscapes. They are also spacious providing enough room for leg stretching and your language.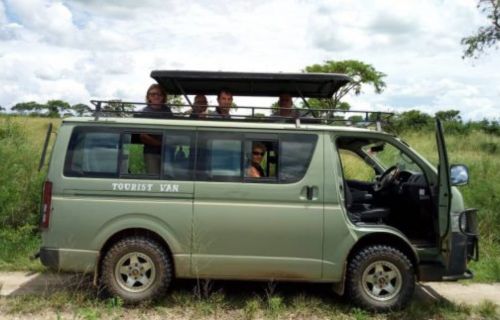 Why Safari Van Rentals?
Our Safari Van Rentals are preferred choice for road trips in Kenya thanks to their versatility and ultimate comfort they offer. They are good for off-road trips being a 4×4 wheel meaning you won't find challenges conquering the muddy tracks or rugged terrains, especially the rift valley side of Kenya.
They also offer the best intimate travel experience. Traveling as a group using our Safari Van Rentals allows you to bond together, share your experiences and amazingly, they are customized for group travel.
If you are looking at saving on your Kenya vacation, then Safari Van Rental is the best deal. Our Safari Van Hire are cost-effective unlike other luxurious rentals like Safari Land Cruisers.
Comfort is guaranteed due to different features these rental vans come with including Air conditioners, seats and space in the interior and boot.

Hire our Safari Vans not only for comfort, but also for various travel needs in Kenya including game viewing, group travel, family holidays, camping and others.
Above all, they are eco-friendly due to their less carbon emissions thus reduced impact on the environment.
Cost of hiring a Safari Van Rental in Kenya
We have the best mid-sized safari vans for hire at USD 150 per day. The price includes unlimited mileage, and excludes accommodation, park entrance, etc.
Privacy –unlike public buses, with our rental Safari Vans, guests are guaranteed of their privacy while on a road trip. You travel with persons you know and not strangers which also guarantees you safety on a road trip in Kenya.
How can I hire a Safari Van in Kenya?
Contact your reliable car hire service provider via email or direct call/WhatsApp: +256 704538374. When sending an email, please clearly state the date you want to start using the van, the days you plan to be with it and destinations to visit. You can hire a van for self-drive or driver guided tours.
Rent a Safari Van Rental Kenya:
---
How many seats does a tour van have?
A Safari van rental without doubt has become a preferred car hire for Kenya safaris, especially for mini group travels. They come with carrying capacity of 7pax and at lower rate compared to extended Land Cruisers rentals in Kenya.