Diesel Car Hire in Kenya; Eco-Friendly Car Rental Options
Looking for affordable and reliable car hire Kenya deals? We bring you our diesel car hire in Kenya deals that are designed to give you the very best experience at a budget that fits within your pockets while in the East African country.
Our diesel car hire in Kenya cars are well serviced and maintained so that you get a hassle free experience whether you are on a self drive car hire Kenya or on car rental with a driver. These cars come with a powerful engine and strength to help you navigate through different landscapes in Kenya.
Whether it's a road trip through the coastline in Kenya, from Nairobi to Mombasa, Nairobi to Maasai mara or any other destination, this is the perfect vehicle that you will definitely enjoy.
We have a long fleet of diesel car hire in Kenya that you will need to check whether you prefer the cheapest car hire services in Nairobi and beyond or luxury car hire in Kenya. These cars can be used by travelers who are either on a family safaris in Kenya or solo safaris and have amazing features that will indeed offer you value for your money.
These features include air conditioner (AC), a fully functional entertainment system, first aid kit, a spare tyre to help you out just in case you get a flat tyre, extra comfortable seats, a fridge (at an extra amount) among others.
If you are looking for an environmental friendly vehicle, diesel car hire in Kenya cars are the favorites.  We live in an era where the fight against climate change and pollution is important and growing so fast hence having such car will not only contribute to a rewarding experience while in Kenya but also you play a crucial role in saving reduce the carbon emission.
Diesel cars are known to emit less carbon footprint compared to their petrol counterparts thus being environmentally friendly.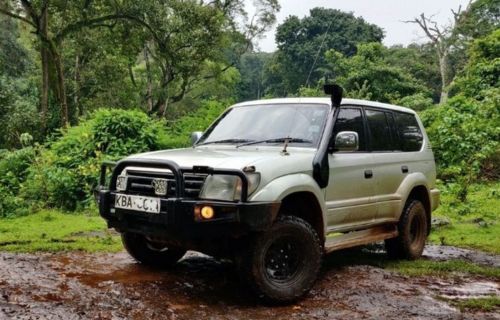 How much is Renting a Diesel Car in Kenya?
The cost of diesel car hire in Kenya is determined by a few factors and these include the type of diesel car you would like to hire (a small SUV, saloon car, or bigger SUV), the number of days you are renting the car, the number of people and the destination as well. Having considered these, you will easily get to know the exact amount of diesel car hire in Kenya.
The cheapest self drive car hire Nairobi Kenya option is a Land Cruiser TX/TZ at only $80 per day and $120 per day if you are to rent a car with driver.
Our diesel car hire in Kenya cost is always final meaning we don't have hidden charges like other car rental companies. Book with us and we assure you that you will have un forgettable safari while in the country. Our cars also come with unlimited mileage which implies that we don't limit you on when and where you can go.
With our car, you have all the freedom to go anywhere anytime within Kenya and beyond without worry of being charged.
How to Rent Diesel Car in Kenya?
Renting a car is one of the best ways you can fully explore what this country has within her boundary and to do so, you can fill our request form with your details about when, where and the type of diesel car you will need. Our team is always online 24/7 to answer to all your inquiries and take you through the booking process as well.
You can as well reach out to us directly on our official lines +256 704538374 and WhatsApp and our team will make sure they take you through the booking process, making sure your preferred diesel car is reserved and availed to you upon your arrival in the country.
Don't hesitate to reach out to us if you are looking for an affordable diesel car in Kenya as we have a long fleet of cars for you to select from.
---
Rent Diesel Car in Kenya
---
Some of the frequently asked questions;
What is required to hire a car in Kenya?
To hire a diesel car or any other car in Kenya, you will need to present a copy of your valid driving license and a valid passport if you are planning to go on a self drive car hire Kenya. If you prefer a guided safari, you will only need to share with us a valid copy of your passport.
Is It safe to hire a car in Nairobi?
Safety is everyone's concern as they plan to visit a foreign country but we assure you it's absolutely safe to rent a car in Nairobi and Kenya as a whole as long as you follow safety precautions we always brief you with upon your arrival.
What is full to full car hire in Kenya?
This means the car is given to you with a full tank of fuel and you are supposed to return it with a full tank of fuel. This helps you avoid paying for extra costs of fuel.
Can I self drive in Kenya?
We have a fleet of cars you can hire on a self drive in Kenya. A self drive helps you discover so much this country holds within her boundaries fully on your own. Nothing is as rewarding as going for a road trip throughout the country and visiting the top destinations on your own.