Best Time to Visit Kenya on a Self-Drive Safari – 4×4 Kenya:
Plan your self-drive adventure based on the best time to visit Kenya in order to get the most out of your road trip vacation. Kenya is a spectacular destination with abundant wildlife and diverse experiences to enjoy.
While Kenya is visitors' first choice of destination for East African safaris, there is need to understand when best to travel for a holiday in this beautiful country. Lets Take you to Kenya:  +256 704538374.
Kenya is an all year-round African safari destination to enjoy wildlife and beach vacation. But June, July, August, and September to October are the best months of the year to travel and explore what this magical country holds. During these months, most parts in Kenya receive no rains with daytime temperatures kept relatively not hot.
Several of Kenya destinations are also excellently explored from January, February to March. The climatic conditions during these months are mild and offer amazing wildlife viewing experiences.
This is a little different with the rainy season or months of the year –March to early June or November to early December, when heavy rains are experiences while the ground becomes muddy.
Best Time to Visit Kenya – Month by Month Guide
Between January and February – traveling to Kenya around January allows you to experience the most of the country's wildlife encounters. It is an ideal month of the year to enjoy beach holiday along the Kenyan coastline, although it comes with hot temperatures.
February –an amazing month of the year where the Central highlands tend to be warm during day and cool in the evening. The coast on the other hand becomes hot during the day and at Masai Mara National Reserve, the precipitation is reduces.
From January to February, tourists can enjoy the sight of new birth from wildebeest as they fall within the birthing season.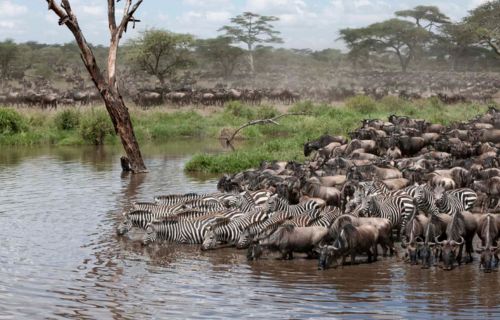 March to May
March is a month when weather conditions often transition from hot and dry to wet and rainy. Most regions of Kenya receive rains around March, and the savanna landscapes turn muddy making it a bit challenging to explore.
April considered among the wettest and rainiest month of the year in Kenya. The central highlands and Nairobi city can be hot during the day and comfortable in the night.
Mombasa can be hot whether it is day or at night. Embarking on a game drives during this period can be challenging due to muddy roads but also offers the best photography experiences.
June to October;
June to October is a special period in Kenya's calendar. First, these are long dry months of the year and considered to be the best time to visit Kenya for a safari.
The weather conditions are favorable and incredibly, they are the best months of the year to witness the Great Migration in the country's Maasai Mara National Reserve.
Aside from the Great Migration, June to October are the best months of the year to enjoy sight of the big 5 game. The long dry season is also the most preferred period to enjoy mountaineering, hiking, and other adventure related activities.
November-October
The short rains in Kenya often begin from November. The parks and camps remain open but some camp around Laikipia Plateau may close. November-October offers opportunity to guests who desire exploring Kenya with fewer crowds.
November –December, this is the most preferred time to enjoy sight of birds. It is a breeding period and variety of birds can be spotted. Kenya holds more than 1100 species of birds in its distinct habitat.
October to February, variety of Palearctic migrant birds can be clearly spotted in marine and shoreline areas.
What to Pack?
Pack wisely for all Kenya safaris and start with essentials. Things to pack; long-sleeved shirts, safari clothes, rain jacket, good and comfortable safari shoes, a sweater, first aid kit, insect repellents, sunscreen, toiletries, sun protection gear, pair of socks, shorts, and others.
Rent a Car in Kenya!