Wedding Car Rental Services in Kenya – 4×4 Car Rental Kenya
Taste the elegance and luxury of our wedding car rental services in Kenya. At 4×4 Car Rental Kenya, we offer a premium fleet of vehicles to ensure your special day is a memorable one.
Wedding is a special event and takes adequate time to plan for it. The long planning process includes securing cars not only for the bride and groom, but also the rest of the members. It is such mind-boggling moment that is why 4×4 Car Rental Kenya company is here to make everything easier than you ever thought of.
Do you plan to hold a wedding ceremony any time soon and you do not have any idea of how you and the rest of the members shall move?
Check out some of our comfortable rides suitable for all kinds of wedding ceremonies in Kenya and across East Africa. Your visit to our site https://4x4carrentalkenya.com/ or email: info@4x4carrentalkenya.com, takes you a step closer to booking your dream ride.
Our selection of wedding car rental are budget-friendly and guarantee lasting memories on such a special day that you long planned for. Take a look at our top picks of wedding car rental in Kenya.

Upmarket – luxury Wedding Car Rental Kenya
Every time you are in search for a classic wedding rental car in Kenya, look no further than our luxury or executive selection.
We have a range of luxurious rental cars suitable for all wedding ceremonies and include Range Rover, Mercedes Benz, Limousine, Vintage rental cars, and others.
Limousine Rentals in Kenya
Looking for something luxury to make your day colorful? Book early our classic Limousine rental option. This luxurious bridal ride is suitable for wealthy class or if you desire something stylish.
Our Limousine rentals come with luxurious interior, private bar, inbuilt TV, CD players, mini bar, leather seats and fridge. We have various Limousine bridal cars including Chrysler Limousine, Hummer Limousine, BMW Limousines, and Audi Limousines.
Range Rover Sport
Hire a Range Rover Sport a comfortable and luxurious SUV selection. Experience royalty in our luxurious SUV Range Rover, fitted with AC, MP3 or CD player, luxurious interior for both bride and groom to comfortably sit.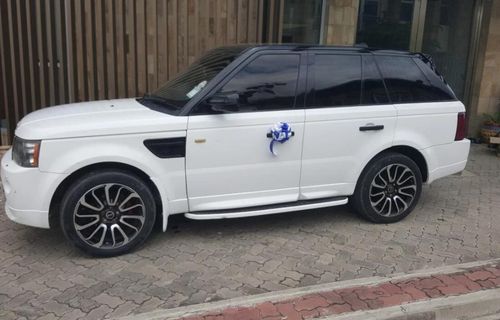 Aside from weddings, our Range Rovers are also suitable for VIP airport transfers, music video shoots or business trip. This is available for hire plus a professional chauffeur.
Mercedes Benz
Our Mercedes Benz bridal cars come in different types.
Available for hire in Nairobi and come with low ground clearance, and different classes to rent include Mercedes Benz S class, E-Class, C-Class, and Mercedes Benz Overland Truck, etc. We avail you with varying colors.
Vintage Rental
Old is gold! Hire our Vintage bridal car, combine the modern and old as far as the 1919 and 1930. Our popular selections of Vintage bridal vehicles include Beetles, Rolls Royce, Ford, Ferrari and more.
Budget Wedding Car Rental Selections in Kenya
Car Rental Kenya offers more than luxurious limousines. We have classic Toyota Prado for hire, a 2.7L V6 engine, a SUV selection available in black and white color.
Depending on the season, you can still get a good Jaguar, Mercedes Benz at a budget-friendly rate.
Where to find bridal cars
Our pick up points:
Nakuru,
Kakamega, and others.
Rent a Bridal Car in Kenya: