Budget Car Rental Kenya: Most Affordable 4×4 Vehicle Hire
Find your dream Budget Car Rental Kenya at the most affordable rates and explore any part of the country with no worries. We have the best budget car rentals in Nairobi with a high chance for you to enjoy some of our discounted offers, especially if you intend to hire a car for a longer time like over 3 weeks.
Whether you plan to hire a car for self-drive or driver guided Kenya trips, we have you sorted with our incredible budget rental car options. Drive a 4×4 self-drive Budget Car Rental Kenya from Nairobi to any of your favorite destinations in Kenya –Masai Mara or Amboseli National Park.
Considering the fact that we are within East Africa, our budget car rental services in Nairobi can be enjoyed in any of the East African destinations. No matter your location or destination you wish to visit, we are available to serve you.

Choose from our wide range of budget rental cars in Nairobi including Toyota Prado, Rooftop tent Land Cruisers perfect for camping/self-drive trips in Kenya and any of the East African destinations.
We also have the best 4×4 one way car rentals suitable for self-drive tour adventures throughout Kenya and East Africa as a whole. Our one way rental cars are available at the most affordable prices and flexible terms, especially for pick up and drop off. Our team can deliver the car right at your hotel facility or any of your preferred location in Nairobi/Kenya.
If you have booked long term car rental, our budget car rental services include vehicle delivery to you either at the airport/hotel. It will all depend on the location where you would like it to be delivered. Feel free to share details on car pick up and drop off.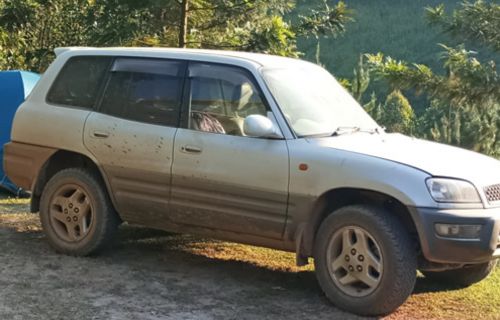 Cheap Rental Cars:
When choosing a car to go for a road trip in Nairobi, Kenya, first you ought to weigh the quality of the vehicle provided Vs the terms and conditions. Often clients complain on how some companies promise to offer saloon vehicles at the least rate, about KES 2000 and only to be let down on last minute.
Our budget rental cars are suitable not only for camping but also for business purposes in Nairobi or any big city in Kenya. You can rent a car with a professional driver and have completely, a distinct experience. For quick responses, WhatsApp us at +256 704538374.

Hire a Car with a Driver:
There are lots of benefits to enjoy when you rent a car in Kenya with a driver. First, where you have no knowledge about the routes to the destination, you save a lot time. The driver guide behind the wheels is equipped with knowledge about the routes to all destinations in Kenya and stopover points.
Hire our self-drive rentals and a professional guide, explore Kenya like a local. Our selection of rental cars to hire with a driver: Safari/Tour Van, Toyota Land Cruiser V8, Coaster Buses, Range Rover, Safari Land Cruiser, Private Vans and others.
Why Budget Car Rental Kenya?
Value for money guaranteed.
You choose your dream ride from our wide range of rental options in Nairobi.
Excellent service at affordable rates to all our guests.
Rent a Budget Car Rental in Kenya: