Best Destinations for Car Rental Exploration in Kenya 2023/4
Kenya is most popular for its diverse wildlife, pristine forests, beaches, scenic rivers and mountains as well as authentic cultural experiences. Kenya is East Africa's 2nd largest country measuring up to 224081sq.mi and bordered by Tanzania, Uganda, Somalia, and Ethiopia.
For decades, Kenya is credited for its unmatched wildlife safari experiences and thrilling mountaineering, great migration experiences in the Maasai Mara National Reserve. There are countless experiences to enjoy on a safari in Kenya besides wildlife tours.
You can also have the best of coastal experiences including snorkeling, kite surfing, sky diving, cruise the mangrove creeks, swim with whale sharks and more.
Top Tourist Attractions and Destinations in Kenya:
Maasai Mara National Reserve -MMNR
Masai Mara National Reserve is most famous for its unique attractions and experiences, offering the most unforgettable migration experiences.
Lying in the Narok County in the Southwestern Kenya, Masai Mara is an ideal place to witness the wildebeest migration in Kenya. It is situated adjacent to the Serengeti protected area and using a 4×4 safari vehicle, expect to explore different faunal and floral species.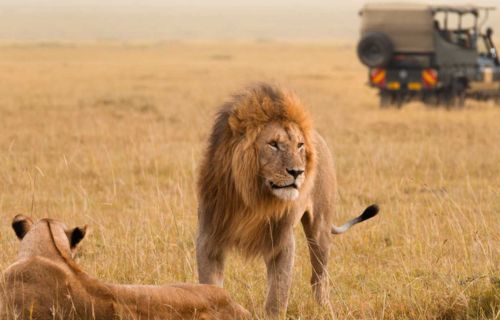 Maasai Mara Reserve's highlights include migration experience which often occurs from July to October.
During the migration, wildebeests are accompanied by thousands of other grazers such as zebras, Thompson's gazelles, and others.
In addition, Masai Mara holds other wildlife species such as cheetahs, lions, rhinos, elephants, leopards, hippos, crocodiles, giraffes and bird species.
Enjoy 3-day Masai Mara safari which includes big game drive and wildebeest migration as well as Maasai community visit. As short as 2-days, you can also travel to Masai Mara and enjoy guided wildlife safaris using a 4×4 safari vehicle.
Other than the big five game viewing and wildebeest migration, there is chance to go for balloon tours, bird watching, guided nature walks and cultural visits to the Maasai community.
Rent a 4×4 Land Cruiser to Masai Mara Park
Samburu National Reserve
Located North of Mount Kenya, Samburu National Reserve is renowned for its distinct vegetation and special game. The reserve contains cheetahs, lions, leopards, grevy's zebras, gerenuks, reticulated giraffes and Oryx.
Amboseli National Park
Situated adjacent to Tanzania border and right at the foot of Mt. Kilimanjaro, Amboseli is renowned for its spectacular views and unique landscape.
Protecting huge concentration of wildlife Amboseli is home to huge herds of elephants, impalas, gazelles, cheetahs, elands, giraffes, waterbucks, leopards, lions, and over 600 bird species.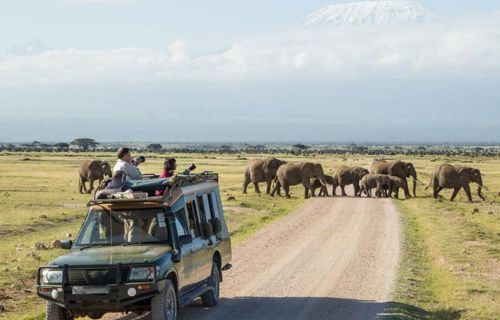 The different birds to search for on birding tour in Amboseli National Park include Kori bustards, buff-crested bustards, chestnut bellied sand grouse, red eyed doves, Namaqua dove, emerald spotted wood dove, ring-necked dove, yellow-necked francolins, common quail, greater and lesser flamingos, red necked francolins, white-faced whistling ducks, Shelley's francolins, pied avocet,
Shoebill stork, black winged stilt, spotted thick-knee, spur winged lapwings, long-toed lapwing, lesser sand plovers, three banded plovers, chestnut banded plovers, sandpipers, coursers, yellow billed storks, saddle-billed storks, African open bills, African darters, woolly-necked storks, pink backed pelican, little bittern, black headed heron, goliath herons, and others.
Tsavo National Park
The Tsavo Parks are with no doubt the largest of all the parks in Kenya.
This vast protected area encompasses 2 parks – Tsavo East and Tsavo West, featuring scenic rivers, savannas, waterfalls, massive lava-rock plateaus, and boast of abundant wildlife including giraffes, African cape buffaloes, black rhinos, elephants, African hunting dog, hippos, and birds such as ring-necked dove, African green pigeon, black-winged stilt, red billed ducks, vulturine guinea fowl, pied kingfishers, eastern black headed oriole, ostriches, Eurasian golden oriole, black cuckoo shrike, Namaqua doves, and more.
Lake Nakuru National Park
Created in the early 1960s, Lake Nakuru National Park accessible 152km from Nairobi city.
It is a true birder's paradise, protecting more than 450 species of birds including over a million flamingos, African fish eagles, cormorants, goliath, pelicans, verreaux's eagles, and others.
A safari in Lake Nakuru NP is a great opportunity to explore not only birds but also wildlife such as white rhinos, warthogs, lions, waterbucks and others.
Other destinations to visit in Kenya: Meru National Park, Aberdare National Park, Nairobi National Park, Hells Gate National Park, Mount Longonot National Park, Mount Kenya National Park, Lake Naivasha and Meru NP.
Recommended Road Trip Itineraries and Routes:
Take 3 day tour to Masai Mara starting from Nairobi via the rift valley region to Narok County in Southwestern Kenya. Get the best taste of Kenya as you encounter the great migration and big five game in their natural environment.
Use day one for transferring from Nairobi capital to Masai Mara National Reserve in a 4×4 safari vehicle. Your day road trip takes about half-day while you explore the Southwestern part of Kenya and expect to go for an afternoon game drive.

The second day, have a full day searching for the big five and watching the wildebeest migration. The most important aspect of the day is the Mara River crossing; watch millions of wildebeest while they cross the Mara River.
North-central circuit –enjoy combination of wildlife, cultural and Kenya's true hidden gems. Book 17-day trip and visit destinations such as Ol Pajeta, Meru National Park, Naivasha, Nakuru, Samburu, Laikipia, and Masai Mara National Reserve, etc.
Hidden gems and off-the-beaten-path locations to explore
Kenya is a destination full of surprises and adventure opportunities. Interested in the off-the-beaten-path experiences? Consider visiting the blood-red alkaline lake, situated in Kapedo, Turkana East. It is a natural alkaline and often dries out.
Marafa-Hell's Kitchen, also most popular cucina del diavolo situated outside Malindi town, and also referred to as Nyari, sandstone's layer cake colors. The chalbi desert –small desert in Marsabit twon, east of Lake Turkana an ideal spot for camel rides, motorsports, filming, nature treks and others.
Other must-visit sites include Eliye Springs Beach, Lake Chala, Dragon teeth Aberdares, Gede ruines, Mara Naboisho Conservancy, haunted pillar of mbaraki, Mida creek, Yoga at Watamu treehouse, Ngare Ndare Forest Reserve, Machakos People's Park, Nyuuni Nature Sanctuary, Oloolua Nature trail, and Mzima springs.
Safari vehicles to rent for Kenya holiday –4×4 safari Land Cruiser, Super custom, Land Cruiser V8/GX/TX, Land Cruiser Prado and Toyota Rav4, etc.