Bus Coaster Car Rental Kenya; 25 Seater Bus for Hire Kenya
Bus Coaster Car Rental Kenya is one of the best rental car options available in our fleet for guests on group tour. We have the best and most comfortable Coaster Buses for hire with a capacity of 25 to 28pax or more. These are available at the most affordable prices and guarantee you a memorable road trip.
All Bus Coaster Rental Cars come with luxurious interior, safety features and they leave reduced impact on the environment. Not only are our Bus rentals perfect for group or retreats but also long distance road trips, and can serve as airport shuttle for VIP class or corporate travel, sightseeing and business trips in Nairobi or any city in Kenya.

Our Toyota Bus Coasters provide relaxed cabin, safety and are spacious. They are ideal for hire for both budget and luxury travelers. Hire our luxury minivan/bus, ideal for city tours or large group travel/airport transfers, business trips in Nairobi.
Our Coaster Buses are preferred for Kenya road trips thanks to their quick acceleration, high level of braking performance, and other amazing features. Looking for the best ride for a large family or group/corporate travel in Kenya? Yes, we have you covered with our high quality and luxurious Toyota Bus Coaster car rental services in the Magical Kenya.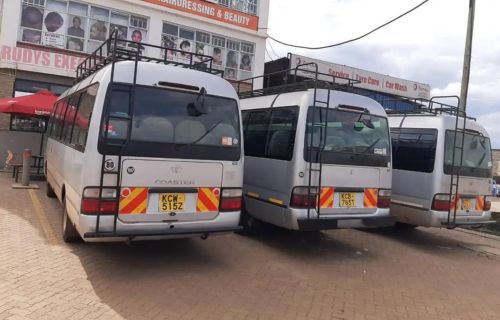 Features for Bus Coaster Car Rental Kenya:
We offer typical of Toyota manufactured minibuses/coaster buses with capacity of 25pax and above. These are available for hire with driver guide in Kenya.
The important features that are fitted in our spacious Coaster Buses include power windows, front and rear air conditioners, equipped with LCD's, leather upholstery, fully serviced, power door locks, adequate space for luggage, music system and mike, refrigerator, pushback seats with seat belts guaranteeing you ultimate comfort and safety.

Different Group Travel Best Fit for Bus Coaster Rental Kenya
You can hire a Coaster Bus for family group, corporate group, event and conference, sports, school group travel and others.
Why hire Bus Coaster?
Affordable not only for airport transfers but also for business trips in Nairobi or any part of Kenya.
We are available 24/7 to assist you make your dream come true. You can always WhatsApp: +256 704538374.
We offer countrywide car hire services and you can book your preferred rental car.
All our Coaster buses are sourced from the best manufacturers such as Toyota, one of the world's brands when it comes to car deals.
Wide range to choose from our available fleets, not only can you find Coaster bus rental Kenya but also other fleets within your pocket-range.
Hire a car with an experienced driver with comprehensive insurance service offered.
Comfort is assured on sightseeing excursion, business trip, city tour or corporate travel.
We are also recognized by the Kenya Association of Tour Operators –KATO.
No addition charges for payments or contract fee.
---
Rent a Bus in Kenya!
Destinations to Explore with your Bus Coaster Car Rental Kenya;
Our Toyota Vans/Coaster Buses/Minivan rentals are ideal for road trips to destinations and national parks in Kenya including;
Masai Mara National Reserve, Amboseli National Park, Nairobi National Park, Lake Nakuru National Park, Mount Kenya National Park, Aberdare National Park, Meru National Park, Kora National Park, Mount Kenya, Hell's Gate National Park, Kisumu Impala Sanctuary, Mombasa Marine National Park, Mount Longonot National Park, and more.
Need a coach car hire service to explore your dream tourist sites in Kenya? We have plenty of options for you to choose from with capacity of 18pax and 29pax. These come with different features such as music player, seat belts, comfortable seats, air conditions, and more.
For large group, choose our selection of coachers including Minivans, Toyota Coaster rentals, Minibus car hire Isuzu and others.

Luxury coach hire services –we are a renowned luxury coach hire service provider in Kenya with highly qualified staff. We offer the best coach/bus rentals to travelers interested in luxury travel and large groups.
Choose our 28 seater Toyota coaster minivan with pleasant interior with room for leg stretching & where to pack luggage, safety features, comfortable cabin, air conditioning (AC), high ceiling, and high-tech design for inter-city travel, music system, mike and others.
Our rates for hiring coaster buses cover theft protection, comprehensive insurance, all relevant government taxes and fees in Kenya, 100% secure payment, unlimited mileage, free cancellation, breakdown assistance, collision damage waiver, and other.
---
You may also like;