Family Car Rental Kenya; Family-Friendly Cars with Child Seats
Ensure a safe & comfortable trip for your family with our Family Car Rental Kenya. We offer a range of family-friendly cars equipped with child seats.
Most popular as home to the original safari, Kenya is one destination to experience the most African road trips. Renting a car in Kenya for a self-drive/family trip or driver guided road trip does guarantee you ultimate freedom to explore this magical destination your way.
The beauty about safaris in Kenya is that there is opportunity for everyone to experience what the Magical Kenya has to offer the world. It is possible to embark on a family trip or sole road trip. Are you interested in a family road trip and you aren't certain of rental car to use?
We have all kinds of comfortable family car rental Kenya suitable for individuals, small and large group family travels. There is no need to worry about comfort when it comes to Kenya family holidays. You can book a family vehicle with us and interestingly, we offer safety car seats for our family rental cars in Kenya.
Our family rental cars come with seats for children aged 6 months to 4 years. When choosing a rental car, make sure there is adequate space to cater for the child's space.
Luckily, dealing with a local expert like us is of a great advantage as we consider everything to ensure that you and the entire family get the most of a family vacation in Kenya.
We get you the most comfortable ride with adequate doors such that children's seats are catered for. We try as much as we can to avoid the 2-door model rentals as it makes it hard to fit in the child's seat.
When you think of a family holiday/vacation in Kenya or any part of the world, there are factors to keep in mind and include the cost of hiring the car seats for the children. The price often varies from company to company.
In case you decide to hire a car seat, consider cross-checking to be certain that it is exactly what you ordered for and it works for the your child. Do thorough inspection on the seat to be sure that it has no damages.
If there is need for assistance to fit in the seat in the car, feel free to ask and our team can gladly be of great help. Don't do things silently and you end up causing damages that result into extra charges.
Top family Rental Cars in Kenya
Looking for the best rental car for your family road trip in Kenya? Here are some of the top family rental cars to consider for your vacation in Kenya.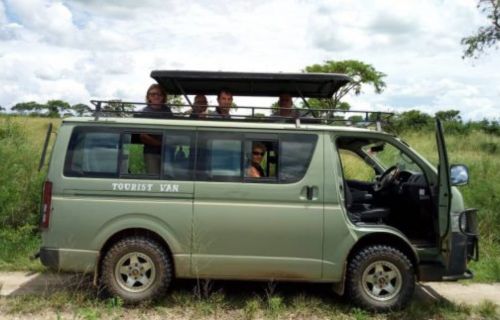 Safari Vans
Think of an unforgettable family vacation, and think not beyond our Safari Van rentals. We have comfortable 4WD Safari Vans with seat capacity of 9pax and suitable for family travels in Kenya and entire East African region. Safari Van rental specifications: clear windows, pop-up roof, air conditioner, leg and luggage space, etc.
Toyota Super Custom
Travel comfortably with your family in our luxurious 4WD Super Custom rental in Kenya. We have well-maintained Super Custom cars for hire, with elegant interior fitted with comfortable seats, air conditioners, adequate spaces for visitors and their luggage.
Land Cruiser Prado
Thinking of doing something different from the usual? Yes, Kenya has it all. Consider hiring a comfortable Land Cruiser full-time 4×4 wheel drive with capacity range of 4 to 5pax. Select from our world's favorite Land Cruiser rentals: Toyota Land Cruisers TX, GX and TZ.
These are fit enough for family guided safaris in Kenya, picnic tours and so on. The amenities to expect that come with our Land Cruiser Prado rentals include MP3 and CD player, FM radio, Air conditioner and comfortable seats.
Safari Land Cruisers
For all off-road trips in Kenya's finest savanna destination, we have you sorted with our classic 4×4 Safari Land Cruisers. Our 4WD Land Cruisers are customized for off-road travel and come with seat capacity of 5-8pax. With many options available, you can embark on a road trip using 5-seater Land Cruiser or 7/8-seater.
Our Safari Land Cruisers have amazing features including diesel engine 4200cc or 4500cc, unlimited mileage, manual transmission, raised suspension, adequate luggage room, pop-up roof for you to enjoy 360 degree game viewing in the savanna grassland protected areas like the Masai Mara National Reserve.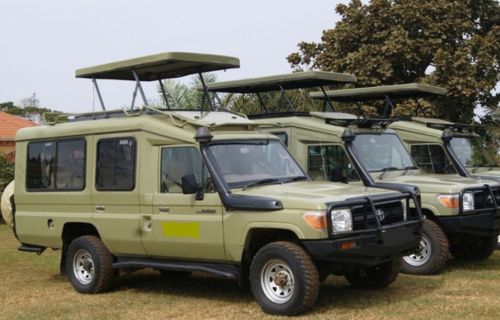 Hiring a child seat and vehicle? Here are some useful questions and answers:
What if I need to rent a child seat in Kenya, how do I go about it?
Hiring a car and child seat can be a tasking thing when planning your family trip to Kenya. A lot must be put into consideration and includes the pros and cons.
The best way to deal with this is by reaching out to your local expert via +256 704538374 to assist you. Our team is on standby 24/7 to assist you plan a memorable family vacation.
Can I hire a car seat from the car hire agency/company?
Yes, car hire service providers can rent out a car to you plus a child seat. But make inquiries earlier before the actual date of your family vacation.
Rent a Car Family Car Rental Kenya!
---
You may also like;