Safari Car Rentals in Kenya; Best 4×4 Safari Vehicle Kenya;
Find your dream Safari Car Rentals in Kenya at ease and at affordable rates with a trusted and tested tour operator on ground. Explore any part of Kenya using our full time 4×4 safari car rentals available for self-drive tours and driver guided safaris. Our rental cars are all licensed as tour service vehicles under the Kenyan.
Driving to your destination using our customized car rentals in Kenya guarantees you freedom, safety and ultimate comfort. Contact our team to secure a budget or luxury rental car suitable for all Kenyan trips.
We have the best 4×4 safari rental cars, customized 4×4 Land Cruisers, Safari Vans, Jeeps, Nissan Safari vehicles. These are typical 4×4 all-terrain safari vehicles and guarantee visitors uninterrupted game viewing experiences while on Kenya safaris in destinations such as Masai Mara National Reserve, Amboseli National Park or Lake Nakuru National Park.
Our top safari car rentals in Kenya:
---
4×4 Land Cruisers –(8 seat 4×4 Land Cruiser rental, 7 seat 4×4 Land Cruiser, 5 seat 4WD).
Each of our 4WD Land Cruisers come with numerous benefits which make them the most preferred choice for road trips. Other than normal game drives, they can also be customized for long photography safaris.
8/7 Seat Land Cruisers –looking for an ideal ride for driver guided wildlife safaris in Kenya? Look no further than our Toyota Land Cruisers -4WD, customized Land Cruisers and Jeeps. Available for hire at the most affordable prices of about USD 150 per day exclusive of fuel and park entry fees.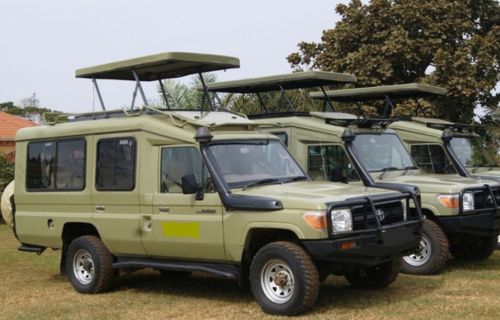 Our Land Cruiser rentals have capacity of 7 to 8pax. They have window seat, especially the 7 seat and if you are using a 8-Land Cruiser, one person can occupy the middle seat at the back.
All our 7 or 8 seat Land Cruisers are customized for safaris –they come with pop-up roof and special shock absorbers, amazing features that allow you enjoy your guided game viewing or wildlife photography expeditions.
Go Kenya road tripping in a classic rental 4×4 Land Cruiser and an experienced driver guide. We also offer airport pick up and drop off, however, our prices exclude fuel. Our Land Cruisers feature 2 diesel tanks which means you can embark on long distance road trip with no worry about refueling it.
This saves you even while in the remotest part of Kenya where safaris are conducted and have no petrol stations. Other features include high frequency radio, luxurious interior, 2 spare tyres, and more.
5 Seat/passenger 4×4 Land Cruiser rental
We have the best 5 passenger 4WD Land Cruiser perfect for 2 to 4pax. These can be hired at USD 150 and come with pop-up roof ideal for photography and wildlife viewing.
5-pax Land Cruiser feature smooth suspension, Radio call, high clearance mud grip tyres, good fuel consumption engine, 2 spare tyres and others.
Toyota Prado TZ/TX
Go self-drive or family vacations in Kenya with comfort using a 4WD Land Cruiser Prado car hire. This is available with capacity of 4-6pax, power engine, pop-up roof and customized for safaris –guided game viewing, photography and camping tours.
Safari Vans
Available for hire at USD 85 per day and takes 8pax. Our safari vans are customized with shock absorbers, top hatch for you to enjoy excellent wildlife viewing and photography.
Other features include cool box, radio, first aid box, spare tyre, and more. You can embark on a short-term or long term but the price excludes fuel.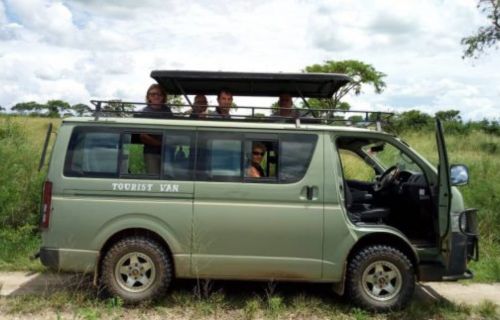 Jeep Safari
Go explore Kenya using a 4×4 Jeep Safari, perfect for any kind of toughest terrain, hillside and landscapes with streams or rough bush. Our Jeep Safari rentals feature high seating thus offering you higher visibility while on a guided game drive/wildlife viewing.
Amazing features that come with 4×4 Jeep Safari car include pop-up roof, fridge bracket, 6 pax capacity, 2 spare tyres, Hi-lift jack, bottle holders, bull bar, sliding window glass and more.
Toyota Rav4
Toyota Rav4 rentals in Kenya are available in 2-4 doors. Compact in size with power engine, steering, capacity of 2 to 5pax, comfortable seats and perfect for saving cost on fuel.
Our Toyota Rav4 rental cars are ideal for picnic trips, city excursions, self-drive safaris, business/events and you need USD 35-60 per day.
Nissan Patrol
No matter how tough the terrain is, Nissan Patrol is the answer. Explore the breathtakingly spectacular rift valley side as you head to Masai Mara with Nissan Safari vehicle with ultimate comfort guaranteed.
Available in full time 4×4 wheel with capacity of 3 to 5 people, adequate room for leg relaxation, and luggage; power steering.
How to hire a vehicle?
Planning to hire a car for business or safari trip in Kenya? Not sure of how you can rent your dream car? Here are essential steps to consider when hiring the vehicle;
Choose where to pick up your car and trip dates.
Pick the right rental car for your road trip/business.
Fill in the form provided or make a call.
Provide valid documentation if hiring for self-drive (passport, valid photo ID, driving license or permit, and more).
Complete the reservation steps/process.
Pick up the rental car with valid documents.
---
Rent a Car Now!
---
How much is a safari car in Kenya?
Hiring a safari vehicle for your great East African adventure in Kenya. A good safari vehicle can be hired at USD 200 and 240.
During low season, a Land Cruiser can be rented at KES 20,000 and during peak months at KES 40,000. This may vary depending on the time of booking.
Can I Hire a Car in Kenya?
Car hire services are ideal for not only for safaris but also airport pick up. Hiring a car in Kenya is possible at budget friendly rates or even if you are interested in luxury rental options.
Consider securing a rental car in advance with your trusted car hire agency in Kenya. Rental cars are available for self-drive, driver guided, short or long term and you can find one in cities or towns like Nairobi, Mombasa or Eldoret.